Is this the UK's greenest eco-bedroom?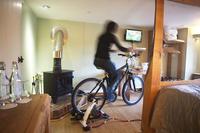 Christina Simons has created a New Forest 'Eco Room', with a twist, at her 5-star, multi-award-winning 17th century B&B. Cottage Lodge, - located in the village of Brockenhurst in the New Forest National Park.
Commented Christina: "Customers love cycling the bike that we have had installed to produce energy for the TV. They want to light the fire to warm their water and also enjoy sleeping in a stunning hand-made four-poster bed constructed from a locally felled beech tree. It is sensual, inspirational, and quirky. I wanted to show that being green can also be exciting and fun."
"I focussed on three things when constructing the eco room: reducing waste, minimising pollution and using resources with the lowest whole life impact possible. Reducing my impact is a lifelong commitment and a labour of love."
With the help of local tree-surgeon Rob Dyer, Cottage Lodge has made beds, bedroom furniture and tables in the dining room out of felled New Forest trees.
"We've also taken many other steps in our 15 room boutique B&B to help the planet. We like being quirky and have been thinking outside the box with everything from energy sourcing to flooring materials," adds Christina.
Facts about Christina's Eco Room called 'Standing Hat':
Re-cycled energy-generating bicycle
A special bicycle made out of re-cycled parts is located in the room for those who wish to generate their own power for the television. If the cycling gets too tough, the photovoltaic cells on the roof also generate power.
Water source/economy
Cottage Lodge has solar panels located on the roof to produce hot water in the summer. In the winter months, the hot water is kept warm via the wood burning stove in the room. A low-flow toilet and shower help to reduce water usage.
Bedroom furniture

A single beech tree which had fallen down in the village was used by Rob Dyer to create the bedroom's bed, bedside table, dressing tables, wardrobe and mirror.

Low-carbon materials
Materials that were selected for their low-carbon properties in the room include Marmoleum (jute) for the bathroom floor and bamboo for the bedroom floor and walls. The room also uses LED lighting and low-energy light bulbs. Eco paints and low impact building materials were used throughout.
Recycling and reclaiming
Windows, doors, tiles, piping etc. are all reclaimed or recycled.
Stays in the 'Standing Hat' Eco Room at Cottage lodge cost £95 to £135 for two people on a B&B basis (includes VAT). For more information, visit cottagelodge.co.uk.