New Forest Twizy passes 2000 mile mark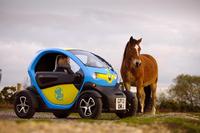 The Twizy, two seat electric vehicle which is owned by five-star, boutique B&B Cottage Lodge in the New Forest and rented out to guests to explore the forest in silence, has just passed the 2000 mile mark.
The Twizy, which is manufactured in Spain by Renault, is a battery-powered, two-seat electric vehicle, which has a maximum range of around 60 miles on one charge and can reach speeds of 50 miles per hour (though many of the roads in the New Forest have speed limits of 20mph to protect the free roaming wildlife).
Comments Christina Simons, owner of Cottage Lodge: "We have had the Twizy for 6 months now and it is proving extremely popular with guests. Apart from anything else it is great fun to drive and people love the funky 'scissor action' doors. But on a serious note it is in keeping with our never ending quest at Cottage Lodge to be as green as possible in everything we do.*
"The Twizy is virtually silent so it doesn't frighten our famous ponies that wander around the forest and of course it doesn't produce harmful emissions. Once people have explored the forest they simply return it to our off road parking area where we give it a charge and then it's ready to go again."

To celebrate passing the 2000 mile mark, Cottage Lodge is offering two-night, mid-week breaks from now until the end of July from £90 pp (two sharing a room) which includes its famous New Forest Marque breakfast and a free 30-minute ride in the Twizy.
Cottage Lodge is just a 10 minute walk from Brockenhurst station, so there is no need to bring the car – just use the electric Twizy! There is a supplement for breaks that include a Saturday night.
For more information, visit cottagelodge.co.uk.

*Cottage Lodge has won numerous awards for its eco credentials; solar panels are located on the roof to produce hot water in the summer (in the winter months, water is kept warm via the wood burning stove), low-flow loos and showers reduce water usage and materials including Marmoleum (jute) and bamboo have been used for their green properties.
Rooms have LED lighting and low-energy light bulbs, eco paints and low impact building materials have been used throughout and one room even has a bike to power the TV. Beds and other furniture including the tables in the Fallen Tree restaurant have been hand-made from rescued forest trees.