An affordable and eco-friendly alternative to camping in the Forest of Dean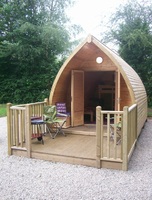 Whitemead Forest Park's glamping pod offers an easy alternative to tents, whilst retaining all the ambiance of a traditional camping holiday. With no tent to put up or pack away, your camping holiday could become a lot less stressful!
Whitemead Forest Park, is set in Parkend in the Forest of Dean, with acres of private land, next to beautiful forest footpaths, perfect for exploring the area. Enjoy leisurely meals in the resort's restaurant, relax in the bar and enjoy the view, or get active with the kid's in the indoor and outdoor play areas.
Sleeping up to 2 adults and 2 small children, the Woodland Pod is perfect for a rural getaway under the stars. The pod is complete with lighting, heating, a plug socket, plenty of headroom and a wooden deck outdoor area to sit back and enjoy your surroundings.
All you need to bring is your camping gear – minus the tent. The pod is furnished with 2 single beds, a set of bunk beds including bedding, table, kettle and storage box to store your essentials. Externally there is a picnic table and room to park one car. Those staying in the Woodland Pod can also take advantage of all the other excellent leisure facilities on site.
For further details, visit whitemead.co.uk.