andBeyond goes wild and tame for World Environment Day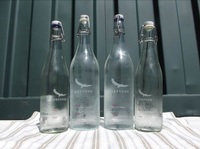 As part of its commitment to minimise the impact that its operations have on the environment, luxury experiential travel company andBeyond has installed its own water bottling plant at its Phinda Private Game Reserve. The bottling plant caters for both still and sparkling water, known as "wild" and "tame" on andBeyond's specially designed glass water bottles.
andBeyond is guided by its philosophy of sustainability in each decision that it makes, down to the most minute details of the daily activities that take place in its 32 safari camps and lodges. The company's efficiency strategy aims to minimise its physical footprint and each of its lodges is empowered to identify projects that allow it to make a positive difference every day.
In line with this ethos, andBeyond Phinda has installed the bottling system, which allows it to purify and bottle its own mineral water in stylish glass flasks, thus greatly reducing its carbon footprint. In the past, mineral water for the reserve, situated in South Africa's KwaZulu-Natal Province, was brought in from the town of Nelspruit, over 500 km (310 miles) away. The new installation also allows Phinda to use recyclable glass bottles instead of plastic, thereby reducing waste.
By bottling water on site, the six lodges at Phinda will reduce their carbon emissions by 7 716 kg of CO² per year, the carbon footprint of the truck that previously delivered the water.
By changing to reusable glass bottles, the reserve also significantly reduces its use of plastic. When running at 100% occupancy, Phinda lodges would have consumed a total of 142 560 plastic water bottles per year, with a substantial saving achieved through the move to more environmentally friendly glass containers.
While andBeyond continues to run a number of larger projects that promote its core ethic of Care of the Land, Care of the Wildlife, Care of the People across the group, this initiative is just one example of the many small changes that are driving its commitment to sustainable travel.