William Shatner to host Have I Got News For You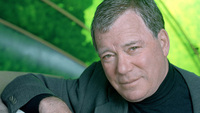 Star Trek icon William Shatner will take the Have I Got News For You host's chair for the very first time at 9pm, Friday 25 May on BBC One alongside team captains Ian Hislop and Paul Merton and guest panellists Andy Hamilton and Charlie Brooker.
Shatner - now 81 - became a household name for his portrayal of James T Kirk, captain of the USS Enterprise in the cult TV series Star Trek – 79 episodes over three years - and seven subsequent feature films. After abandoning intergalactic exploration, he played the eponymous, kick-ass veteran cop in T J Hooker as well as hosting the reality TV series Rescue 911. He then starred as the bombastic, highly comic attorney Denny Crane in the television dramas The Practice and its spin-off Boston Legal for which he won two Emmys and one Golden Globe award.
Along the way he has found time to work as an author, producer, director and even a singer whilst breeding horses on his Kentucky ranch and being a "total petrol head" on the motor-racing track.
A versatile, classically trained Shakespearean actor - who famously enjoyed a highly controversial interracial screen kiss, starred in a gothic film in which all the dialogue was in Esperanto and played the 'Big Giant Head', a womanising party animal in 3rd Rock From The Sun - Shatner is no stranger to poking fun at himself and is looking forward to his first stint in the host's chair: "English sense of humour is different from American sense of humour. Luckily I'm Canadian."
Additional hosts and guests confirmed for the remaining shows in the current series are: Alexander Armstrong - a record-breaking 20th time in the chair - with guests comedian Reginald D Hunter and outspoken Tory MP Nadine Dorries (programme 5); BAFTA nominated actress and comedienne Kathy Burke with defeated Labour mayoral candidate Ken Livingstone and actor and comedian Joe Wilkinson (programme 6) and the much-anticipated hosting debut of Alastair Campbell with Alan Sugar's right-hand man Nick Hewer and funnyman Ross Noble as guest panellists (programme 8).
In the final programme of this series on Friday 8 June, writer, broadcaster and poker player Victoria Coren and Greg Davies, probably best known as Mr Gilbert in The Inbetweeners, will be joined by Kirsty Young, her 11th appearance in the host chair.