Regaldive's one-stop guide to your first diving holiday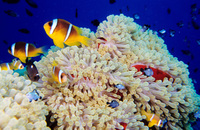 For those intrigued to give diving a go, but with no idea about next steps, Regaldive has put together some handy hints and tips. Providing details of the 'wheres', 'whens' and 'hows', the diving holiday specialist hopes to offer some useful guidance to anyone looking to take their first plunge.
Where to go?
The Egyptian Red Sea is renowned as one of the best destinations in the world for learner divers. With shallow, warm and safe reefs, good visibility and some of the world's most fascinating and unique marine life on offer, the Red Sea offers the perfect location to learn to dive.
With a variety of resorts on offer in the Red Sea, it's important to make sure you chose the right one for you. For those who want to stay somewhere with plenty going on both above and below the water, the established resorts of Sharm el Sheikh and Hurghada offer the perfect combination. Both resorts offer boat diving for beginners. In Sharm El Sheikh, novices can dive in the easily accessible, beautiful coral gardens where they can see an array of diverse marine life including damselfish, clownfish, barracuda, lionfish and turtles, and by night explore the lively bars and restaurants. Seven nights at the Bay View Hotel costs from £552 per person, to include flights, transfers and B&B accommodation. (PADI Open Water course costs from £236 per person.)
Hurghada offers newbies the chance to learn in safe and sheltered bays, while enjoying the fantastic underwater scenery. Plentiful reefs and fascinating marine life include blue spotted rays, clownfish, lionfish, groupers, jacks, turtles and dolphins. Above the water, guests will have the opportunity to get a taste of the 'real' Egypt as they explore Hurghada's bustling streets and vibrant bazaars. Seven nights at the Elysees Hotel costs from £556 per person, and includes flights, transfers and B&B accommodation. (PADI Open Water course costs from £212 per person.)
For those looking to stay somewhere a bit calmer, the more northerly resorts of Dahab and Nuweiba offer the perfect setting for a laid-back holiday. These resorts offer excellent 'shore diving' opportunities, which are perfect for budding underwater photographers and beginners. Shore diving is when divers walk into the water, fully equipped with their dive gear, from the shore, meaning they can make a more gradual and relaxed entry to the sea bed.
Dahab is located at the foot of the Sinai Mountains and is known for its unique, laid back atmosphere and fantastic Bedouin bars. Offering some of the most spectacular diving in the Red Sea, Dahab has something for all abilities, with large sandy slopes, gentle drop-offs and shallow coral gardens for beginners. The resort is also home to 'The Islands', a well known dive site, made up of vivid coral boulders, passages, amphitheatres and bowls. Barracuda and turtles can often be spotted here. Seven nights at the Nesima Hotel costs from £660 per person to include flights, transfers and B&B accommodation. (PADI Open Water course costs from £250 per person.)
For those who really want to get away from it all, the Red Sea's most northerly resort, Nuweiba, is a quiet and peaceful choice nestled between the Gulf of Aqaba and the mountains of the Sinai. With spectacular house reefs just a few fin kicks from the shore, Nuweiba offers fantastic dive opportunities for beginners who can share their first dives with an amazing variety of marine life including razorfish, puffers, shrimps, lionfish and Pegasus fish. Seven nights at the Hilton Coral Resort costs from £774 per person, to include flights, transfers and All Inclusive accommodation. (PADI Open Water course costs from £226 per person.)
When to go?
The Red Sea is the ideal year round destination for beginner divers. For those looking to combine activities such as sightseeing ancient temples, desert safaris and Bedouin evenings with learning to dive, it's best to avoid the months of July and August as they can be particularly hot above the water.
What course to do?
The best way to get to grips with diving is to undertake a PADI Open Water Course. Regaldive offers PADI Open Water courses in each of its Red Sea resorts.
The courses, which are run by fully qualified and professional instructors, are between four and five days long. They consist of five theory and pool sessions, as well as four 'open water' dives, where customers have the opportunity to explore the stunning underwater landscapes of the Red Sea. The PADI Open Water courses teach a range of useful underwater skills and once passed, allow customers the freedom to dive all around the world with another qualified diver, to a maximum of 18 metres.
Costing from £212 per person depending on resort, PADI Open Water Courses include instruction and equipment. A PADI Open Water Manual is required, but can be purchased from Regaldive for £28 each.
What if I don't like it?
Learning to dive is enjoyable, sociable and surprisingly easy. PADI Open Water courses are taught in a safe and fun environment by qualified and professional instructors who are eager to introduce people to the underwater world.
The benefit of learning to dive with Regaldive however is that majority of its Learn to Dive packages in the Red Sea offer a 'Learn to Dive Guarantee'. This means that if, after the first day of tuition you decide that diving is not for you, Regaldive will refund your course fees so that you're free to enjoy the rest of your holiday on dry land.
What's next?
For further information, or to book, visit regaldive.co.uk.