5 top tips to get the most out of visiting Egypt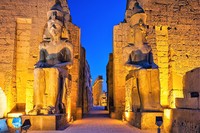 Egypt is a destination that has captured the imagination of travelers for centuries. The birthplace of one of the world's most ancient civilizations, intrepid visitors can explore pyramids, temples, tombs, and ruins of long-gone cities.
Cities like Cairo and Alexandria boast an array of impressive architecture, including Roman fortresses, Coptic churches, and Islamic mosques, madrasas, hammams, and fountains. Old Cairo is one of the country's many designated UNESCO World Heritage Sites.
If you are after more of a relaxed holiday, Egypt has you covered for that too! Its numerous beaches and resorts on the coasts of the Red Sea (such as Sharm El-Sheik) and the Mediterranean (such as Alexandria) offer the perfect sun-and-sand combination.
Or, you can get the best of both worlds with a relaxing Nile cruise from Cairo to Luxor, where you will find the legendary Valley of the Kings.
Before jetting off to the North African country, here are some top tips to get the most out of your Egyptian adventure.
Brush up on Ancient Egyptian history
With all the incredible historical sites to see in Egypt, it's a good idea to read up on them before you go. The Pyramids of Giza, guarded by the iconic Sphinx, are some of the world's most famous structures, but who built them and why? Which pharaohs are entombed in the Valley of the Kings, and why was the ruined city of Thebes (in what is now Luxor) so important to the ancient Egyptians?
You will find that many tour guides give only basic explanations of Egypt's important monuments and it can help to dig a little deeper on your own to fully appreciate what you are looking at.
Make sure you get the right visa
If you want to get into Egypt in the first place, remember that most travelers need a visa to enter the country. There are different types of visas depending on if you are visiting the country as a tourist, relocating to live and work in Egypt, or simply transiting through the country—yes! You even need a transit visa to pass through an Egyptian airport! Here is some more information about a transit visa for Egypt.
There are a few different types of tourist visas for Egypt and different nationalities are eligible for different options.
The most convenient visa is the electronic visa or eVisa. If you are from an eligible country, such as the US, UK, Australia, or any EU member state, you can simply apply online and have your visa electronically linked to your passport and a copy sent to you by email. The whole process can take as little as a few hours and rarely more than 3 days.
If you are not from an eligible country, you may have to go to an Egyptian embassy and apply in person. It may take a few weeks to get your visa for Egypt through an embassy, so be sure to apply in good time!
Once you have the required paperwork, you will be free to explore Egypt, making it well worth doing.
Visit Egypt at the right time of year
Located in the Sahara desert, Egypt is incredibly hot and dry for most of the year. Even though most of the major cities and ancient sites are found along the fertile banks of the River Nile, the sun and heat are relentless in summer. Unless you are a fan of extreme heat, the winter months (November to February) are the best time to experience Egypt. Temperatures can still creep up to the mid-20s°C during the day, but can dip as low as 6°C at night in inland areas, so remember to pack warm clothes!
Take a Nile cruise
A truly unique Egyptian experience, we fully recommend taking a cruise up the Nile. There are many options to choose from between the cities of Cairo, Luxor, and Aswan, with some cruises including all 3. Each city is home to important ancient sites, with days of relaxing sailing on the world's longest river to break up the sightseeing.
The question is: what kind of cruise would you prefer? A trip back in time on a Victorian steamship? A modern cruise liner, complete with onboard swimming pool and entertainment? A traditional Egyptian dahabiya?
Whichever you choose, it is sure to be an unforgettable experience.
Cross a few must-visit places off your bucket list
Egypt is such a big draw because of all the iconic monuments left behind by the ancient Egyptians. All of us have a bucket list—a list of things we'd like to see or do before we die. And who wouldn't include the Pyramids of Giza on theirs?
Here is a list of the famous places that you simply have to visit when in Egypt:
- The Pyramids of Giza (Giza Necropolis)
- The Sphinx (Giza Necropolis)
- The Step Pyramid of Djoser (Saqqara Necropolis)
- The Valley of the Kings (Luxor)
- The Valley of the Queens (Luxor)
- The Mortuary Temple of Hatshepsut (Luxor)
- The ruins of Ancient Thebes, including the Luxor Temple and the Great Temple of Amun at Karnak (Luxor)
- The Temple of Isis at Philae (Aswan)
If you're looking for a unique adventure with history, sun, famous monuments, and room to relax, Egypt has it all.