Epic 600 Mile 'Ultimate Long Nile'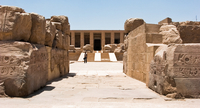 Leading Nile cruise specialist, Discover Egypt, is offering their 'Ultimate Long Nile' cruise with four itineraries covering the 600 miles from Cairo to Aswan.
Four unforgettable journeys are available following in the footsteps of the Pharaohs' with a 9-night, 11-night, 12-night and 14-night itinerary available on board the five star Movenpick MS Hamees, one of the largest and most well-appointed boats on the Nile, with the first departure on 01 April 2015.
Providing a high standard of comfort and service passengers will get to experience some of Egypt's top ancient sights, including Luxor and the Valley of the Kings and Valley of the Queens, Temples of Karnak and Luxor; and the Pyramids and Sphinx. Each cruise includes guided excursions accompanied by an Egyptologist to some of the most well-known, as well as lesser know sights along the Nile.
The 9-night cruise on 01 May starts in Luxor and finishes in Cairo and costs £1,899 per person. As well as the sights above this itinerary includes visiting Qena and the unique L shaped Abydos Temple, which served seven gods of Ancient Egypt; and visiting the Pyramids of Maydom and Hawara in Fayoum.
The longest itinerary is the 14-night cruise which starts in Cairo and finishes in Aswan, and as well as all the above sites includes the High Dam, Philae Temple and Nubian Museum in Aswan, as well as visiting the splendid Denderah Temple dedicated to Hathor the goddess of love, music and fertility. This 14-night cruise costs £2,639 per person and departure dates are 01 and 14 April, and 10 May 2015.
All cruises include return flights from Heathrow, transfers in resort and the full board cruises with guided excursions as per the programme.
For more information, visit discoveregypt.co.uk.