MV Origin launches in Galapagos Islands, Ecuador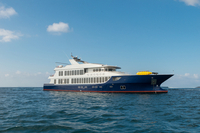 Lean, green and offering an unsurpassed level of comfort, cruising vessel MV Origin has set sail on voyages of discovery around the Galapagos islands. The newest and only ship of its kind, MV Origin has been built by the award-winning sustainable travel experts Ecoventura, and is positioned to redefine passengers' cruising experience by combining modern sophistication with environmental responsibility.
This 20-passenger mega-yacht features 10 deluxe staterooms, locally inspired gourmet food, a Jacuzzi and fitness centre. The MV Origin offers expansive indoor and outdoor social and observation areas, allowing for easy and comfortable viewing of the islands' unique scenery and topography. High quality guided land excursions can be taken in very small groups, and guests can also enjoy a dose of intellectual science from the team of expert Galapagos guides.
Passengers will not only see the Galapagos in style, but they will know it has been built with green concerns in mind, with water saving measures including reusable plastic bottles, a specially designed water treatment plan and ecological toilets means the Origin will not dispose of any untreated greywater or blackwater into the ocean. The ship is also designed with a curved bow allowing a smoother cruise, increased fuel efficiency and less drag, allowing the ship to use fuel more efficiently.
The MV Origin alternates between seven-night A & B itineraries to reduce the impact of visits to the Galapagos islands' most popular sites. Both itineraries include daily, personalized excursions with optional snorkel and kayak tours led by two onboard, certified naturalists.
Itinerary A Highlights
Pinnacle Rock on Bartolome
All three boobies (Nazca, Blue and Red Footed)
Great and Magnificent Frigatebirds
Snorkel with Galapagos penguins
Giant tortoises in the highlands
Waived Albatross on Espanola
Kayak and swim with sea lions at Cerro Brujo and Gardner Bay
Itinerary B Highlights
Galapagos Tortoises in the highlands
Red Footed and Nazca Booby at Genovesa (Tower)
Snorkeling with penguins on Isabela
Volcanic formations of Fernandina
Flightless Cormorant
Kayak at Darwin Bay and Tagus Cove
Whale and dolphin sightings
Examples of tour operator packages including a cruise on the MV Origin:
Sunvil Traveller,(sunvil.co.uk.) which specialises in carefully crafted adventure trips to Central and South America offers a 10 night trip to Ecuador including 2 nights in Quito (BB) and a 7 night cruise on the MV Origin (FB) from £ 6,397 per person. The price is based on two adults sharing a cabin and includes all meals and drinks on board, Captain's welcome and farewell cocktail private transfers, guided Quito city tour and return economy international flights with KLM from London Heathrow (via Amsterdam). An extensive network of regional flights are also available.
Audley Travel (audleytravel.com) can arrange a 10 day itinerary to Ecuador and the Galapagos Islands including 2 nights at Casa Gangotena in Quito and a 7 night cruise on board the MV Origin from £7285 per person. Price is based on 2 adults sharing and includes all flights and taxes, transfers, a private tour of Quito, all meals and drinks on board the Galapagos cruise, entrance fee to the Galapagos National Park and Captain's welcome and farewell cocktail. Itineraries can also be arranged around the MV Origin's designated family departures.
Or book direct with Ecoventura at ecoventura.com.