San Pedro offers unforgettable seaside experience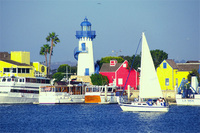 Steeped in seafaring history and teeming with art galleries, one-of-a-kind shops and charming restaurants, San Pedro is one of Southern California's hidden gems. This pedestrian-friendly, waterfront destination blends the charm of a small town with urban sophistication with its tapestry of historical sites, hip residential lofts, and the distant sounds of fog horns announcing the arrival of cruise ship passengers from far-flung destinations.
An Unforgettable Seaside Experience
San Pedro's rich maritime history is evident at almost every turn. The Port of Los Angeles, where luxury cruise ships dock regularly amid a succession of ceremonial bon voyages, features a waterfront promenade replete with a two-tiered, palm-lined pathway. This was where TV's most famous cruise ship, "The Love Boat," departed and returned every week starting in 1977 until the series finale in 1986. A recent series of upgrades, including new, state-of-the-art gangways, have been installed at the World Cruise Center. Recognized as the busiest passenger port on the West Coast, the World Cruise Center is an embarkation point or port of call for several cruise lines, including Princess Cruises, Carnival Cruises, Silversea, Royal Caribbean, Holland America, Disney Cruises, Norwegian Cruise Line, Celebrity Cruises, Crystal Cruises, Seabourn and Cunard. Destinations and itineraries range from Hawaii, Mexico and Alaska to the Panama Canal. Fronting the World Cruise Center, at the crossroads of Swinford Street and Harbor Boulevard, is the Fanfare at San Pedro Gateway. This choreographed water feature boasts nearly five dozen liquid jets that pulsate, sway and spray water to a playlist of popular songs, providing the perfect send-off and homecoming to the thousands of passengers who return from and depart for their dream vacations.
California's largest maritime museum is also located in San Pedro at the end of the waterfront promenade. The Los Angeles Maritime Museum, housed in a classic, 1940s Streamline Moderne Art Deco Municipal Ferry Terminal, displays hundreds of exhibits, including ship models and navigational equipment. The building is significant, as it played a pivotal role with passengers who embarked and disembarked after making their way to and from the many canneries and military bases that were once located on nearby Terminal Island. North of the maritime museum is Fireboat #2 (The Ralph J. Scott) Museum, which pays homage to the harbor's firefighting vessels.
The Port of Los Angeles and San Pedro was the Navy's base from 1919 through most of the 1940s, and the S.S. Lane Victory serves as a reminder of the instrumental role the city played during this lengthy era. Docked at Berth 46, this fully restored World War II victory ship is open for tours and features a treasure trove of memorabilia. Built in 1945 as the war's end neared, the S.S. Lane Victory also served with distinction during the Korean and Vietnam Wars, as well as in times of peace as part of the merchant fleet. During the summer the ship sets sail on hours-long "Victory At Sea" voyages, which are open to the general public.
Another wartime ship, the USS Iowa, will soon share the waters with the S.S. Lane Victory becoming San Pedro's newest maritime attraction. Touted as the world's best-known and most powerful battleship, the "Big Stick," as it's fondly called, is a mighty World War II vintage naval warship that will be permanently berthed in the LA Harbor and open to the public for tours. Outfitted with massive guns and a helicopter pad, the USS Iowa ferried 151 officers and more than 2,600 enlisted men earning nine battle stars for WWII and a pair of stars for the Korean War.
Those passionate about marine life will enjoy The Cabrillo Marine Aquarium, which houses a fine collection of saltwater aquariums teeming with sea life indigenous to the waters of Southern California. Children can explore the hands-on exhibits and activities at the aquarium's Exploration Center, which reveals the habitats and organisms belonging to the nearby Cabrillo Beach Coastal Park. Young sea animals, such as grunion, garibaldi (the official state fish of California), and white sea bass, are raised and nurtured within the confines of the aquarium's Aquatic Nursery, while the Virginia Reid Moore Library, a research facility, features an extensive collection of works on Southern California ocean life.
Adjacent to the aquarium is Cabrillo Beach, with its fleet of tide pools for low-tide exploring. Photo opportunities abound with the Pacific Ocean and Los Angeles Harbor serving as backdrops. The beach's tranquil setting, calm ocean conditions, and sandy stretch of shoreline lend itself well to families with young children.
San Pedro is also home to some fascinating landmarks, including the Point Fermin Lighthouse. Erected in 1874 and constructed entirely of wood, this beacon of light safely guided ships into San Pedro Harbor (renamed Los Angeles Harbor) for several decades. Restored to its original splendor, the lighthouse is now open for guided public tours. Another city gem is the Warner Grand Theatre. Built in 1941 in the Art Deco style, this former movie palace, one of the region's first sound-equipped theaters, is continually being restored to its original grandeur. Managed by the City of Los Angeles Department of Cultural Affairs, the Warner Grand hosts foreign and classic film series, as well as special events. In Angels Gate Park, The Korean Friendship Bell, gifted from the people of the Republic of Korea to Los Angeles during our country's bicentennial celebration of independence in 1976, sits beneath a majestic pagoda on a commanding ocean bluff. The enormous bell is rung just four times a year: Fourth of July, August 15 - Korean Independence Day, New Year's Eve, and every September to celebrate Constitution Week.
Authentic Restaurants
Old San Pedro, bordered by Pacific Avenue, Sixth and Seventh Streets, and Harbor Boulevard, has an eclectic dining scene. Sixth Street, downtown San Pedro's main thoroughfare, is a mini restaurant row with the new Limani Taverna, a delightful Greek eatery, anchoring one end of the street. With the recent explosion of craft beer, enthusiasts flock for flights and food pairings at the San Pedro Brewing Co., featuring its own onsite brewery. Oenophiles can enjoy their grape counterparts at Off The Vine, featuring small plates and wine tastings.
Neighboring Seventh Street has its share of dining favorites, too, including the 7th Street Chop House, featuring live entertainment. The Whale & Ale is an authentic British pub with a menu to match, serving prime rib, bangers and mash, and fish and chips. Micro-brewed beers, ales, lagers and ciders pour from the tap and represent the best brews from England, Ireland and the Golden State. For a taste of Hungary, Mishi's Strudel Bakery and Café delivers fresh strudel, sweet and savory crepes, pasta and classic goulash.
Ports O' Call Marketplace is another dining destination located on the waterfront just south of the Maritime Museum. Its collection of fresh seafood restaurants offer breathtaking views of the harbor and include the Crusty Crab, Fisherman's Seafood, Pan Pacific Restaurant, Boardwalk Grill, Ports O' Call Restaurant, Alaska Seafood, Café International and San Pedro Fish Market. It's no surprise that one of LA's most popular annual events takes place here — the Port of Los Angeles Lobster Festival — which pays homage to the spindly crustacean.
Unique Shopping
Complementing the cobblestone streets of Ports O' Call Marketplace are a handful of shops worthy of a visit. Shopkeepers stock their shelves with keepsakes and souvenirs, from ocean-inspired trinkets to gourmet foods. Old San Pedro is also a shopping haven with a bohemian vibe populated by aspiring artists. Mesa, Seventh and Sixth Streets are home to several working studios tucked behind unassuming storefronts. Galleries include Gallery 478, Medea Gallery, Studio 345, The Loft Galleries, and The Living Museum, all of which participate in San Pedro's First Thursday Artwalk, which takes place from 6 p.m. to 9 p.m. on the first Thursday of every month.
And, as of June, there will be one more place to shop in town when Crafted at the Port of Los Angeles makes its long-awaited debut. Housed in a pair abandoned 1940s warehouses collectively spanning 140,000 square feet, Crafted will showcase locally-made wares from 500 artisans skilled at making glass, furniture, felt hats, carved leather accessories, artisanal foods and more.
Connecting the waterfront attractions with Old San Pedro is the Red Car Line, a 1.5-mile-long vintage trolley line operating from noon to 9:30 p.m. Friday through Sunday. Accessing the former Pacific Electric right-of-way, these signature, fire engine-red trolley cars are replicated from the 1909 Pacific Electric 500-class interurban cars. The vintage-inspired gems feel like the real deal with wood paneled interiors, open-air windows, classic wooden seats with brass fittings, and advertisements from bygone eras.
Harborfront Accommodations
Situated between the Cabrillo Marina and Cabrillo Beach is the pet-friendly Doubletree Hotel San Pedro. Boasting 226 spacious guestrooms and suites with views of bobbing sail boats, the hotel is ideally located near the Los Angeles World Cruise Center, the largest commercial and cruise ship port to grace the West Coast. It's also within walking distance to Ports O' Call Marketplace and Old San Pedro.
Located in the heart of Downtown San Pedro, the Crowne Plaza Los Angeles Harbor Hotel is walking distance from shops, restaurants and galleries. The 244-room hotel offers free shuttle service to the World Cruise Center, located four blocks away, and to other destinations within a five-mile radius. And with 10,000 square feet of meeting and event space, it is billed as "the place to meet" in San Pedro.
The value-oriented San Pedro Inn and Suites Hotel evokes the feel of a Victorian-style inn with 60 ample-size guestrooms coupled with panoramic views of the LA Harbor and Vincent Thomas Bridge. Guest amenities include complimentary continental breakfast and WiFi.
The budget- and pet-friendly Vagabond Inn San Pedro is situated near the Harbor (110) Freeway, minutes from the World Cruise Center, Cabrillo Marine Aquarium, Ports O' Call Village and other local attractions. The motel offers 70 guestrooms, as well as perks like complimentary continental breakfast and morning weekday newspaper.
For more information, visit discoverlosangeles.com.