DVLA makes Olympic history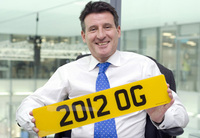 For the first time in the history of the Olympic Games, UK motorists will be able to celebrate the greatest sporting show on earth through a series of unique Olympic and Olympic-sports related personalised registrations.

The one-off Olympic-themed auction featuring 1,750 registrations will be staged at London Mayor Boris Johnson's mayoral chamber at City Hall from Thursday, June 7, to Saturday, June 9.

Popular sports such as boxing, cycling and rowing will be represented in the sale alongside most track and field events and more general Olympic-related registrations, while fans of minority sports like BMX racing and even canoe slalom will be able to show their support.

As one of the official licensees of London 2012, DVLA Personalised Registrations has unearthed examples like MEN 100M and RUN 100M – prime for the men's blue ribbon 100m event - with modest reserves of just £300 and £500 respectively.

With registrations like 2012 OG (£1,500), GO11 DEN (£2,500) and WON 601D (£400) DVLA Personalised Registrations has gone to great lengths to ensure motorists can join in the celebration with our Olympians.

Heralding some of the nation's favouriteathletes, DA11 LEY (£1,000) for diver Tom Daley, FA12 RAH (£1,000) for long distance runner Mo Farah and 11 HOY (£1,800) for cyclist Sir Chris Hoy are listed, even Lord Coe, Chairman of London Organising Committee of the Olympic Games and Paralympic Games (LOCOG), and Mayor Boris Johnson have been accounted for with SEB 60E (£900) and BOR 15X (£300)!

While there's a comprehensive array of Olympic-themed registrations running throughout the sale, DVLA Personalised Registrations is, as always, accommodating its legion of personalised registrations lovers.

Popular first names like HO11 LLY (£2,000), EL11 OTT (£1,500), JO12 DAN (£2,000) DA12 REN (£1,500) and SA11 EEM (£2,000) sit alongside widespread surnames like TA11 LOR (£2,000), MU12 RAY (£1,000), PA12 KER (£2,000), TU12 NER (£1,500) and BA11 LEY (£2,000).

Jody Davies, DVLA Personalised Registrations' Events Manager, said: "No other country in the history of the Olympic Games has celebrated the event in this manner. We are dedicating the first 50 lots of the sale to Olympics-themed plates and we're excited to see who may turn up and bid."

In addition to those registrations already mentioned, DVLA's forthcoming auction will consist of a total of 1,750 registrations, all chosen to offer a selection to suit all tastes, styles and budgets including; ADE 80Y (reserve - £400), AG51 NGH (£900), ART 80X (£400), BA11 BOY (£1,000), BMX 848E (£300), CAB 1A (£700), DE12 MOT, (£1,000), EL11 OTT (£1,500), FU11 HAM (£1,000), F348 GTS (£400), GA11 OPS (£1,000), GE12 ARD (£1,000), HA12 RRY (£2,000), HO11 AND (£2,000), HO12 SES (£1,000), HOT 80B (£350), JO12 DAN (£2,000), JE12 EMY (£1,500), KU11 MAR (£900), MA12 TYN (£1,000), OL11 VER (£4,000), PO11 AND (£1,000), SA11 EEM (£2,000), SA11 NTS (£1,000), SM11 THS (£3,000), SS11 NGH (£2,000), TW11 TER (£1,000), TU12 NER (£1,500), WEM 613Y (£350), WE11 OFF (£1,500).