Street art, gold bars and haunted buildings - London's hidden gems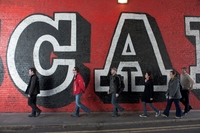 Urban Adventures, the company which runs 'day tours with a difference' in more than 80 cities around the world has relaunched its range of tours in London.
From lifting a gold bar in the Bank of England to discovering an old operating theatre hidden for more than 100 years, London Urban Adventures give people a unique insight into the capital by going off the beaten track to see hidden gems as well as a few classic landmarks.
Tours include:
East End Uncovered
A vibrant open-air art gallery and a haven for alternative culture: the East End has a richly complex history. See where Banksy made his name and inspired other street artists to leave their mark, as well as where Shakespeare's plays were first performed and modern theatre began. Discover one of the few circus schools in London, hunt for a bargain in a real East London market and, perhaps enjoy a drink in a lively pub or a meal in one of Brick Lane's world renowned Bangladeshi restaurants. Like nowhere else the East End is a place where past, present and future collide in a real mash-up – a pie and mash up!
City Streets Explorer
The best way to see a great deal of London's most iconic sites in a single afternoon as you journey straight through the grand streets and hidden alleyways of its historic heart. Sneak a peek inside the Royal Opera House, lift a gold bar in the Bank of England and partake in an afternoon tea in the Crypt of St. Paul's Cathedral. From Trafalgar Square to the Tower of London, if you've only got one day, this is London's essential walking tour!

Thames: From Tower to Tate
Explore the back streets of the mighty River Thames - London's 'mirror of history' - and take in some of the city's finest views from the riverbank as they are meant to be seen. Sample the gourmet delights of Borough Market, check out historic South Bank taverns known to Chaucer and Dickens, visit the original sites of the Globe and Rose Theatres, enjoy Tate Modern art gallery and discover a hospital operating theatre which was hidden for more than 100 years.
Cycle Hampton Court
Jump on a classic English bicycle for a guided 12km riverside cycle along the historic Thames. Visit Richmond Palace, stop for refreshments at the stunning Petersham Nurseries, cruise past the Palladian mansion of Marble Hill House and hear the tales of England's most haunted building at Ham House, before exploring Hampton Court Palace.
Advance booking is essential for all tours. For more information or to book, visit londonurbanadventures.com.