Get a real taste of Copenhagen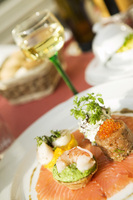 Danish cuisine has established itself at the top of the gastronomic world. Now you too have the opportunity to taste some of the best for yourself on a new guided food tour around the city. Noma has been voted best restaurant in the World for three years running and in 2011 Copenhagen was also home town of the best chef in the world, Rasmus Kofoed at Geranium.
CPH Food Tours offers guided walking tours around the centre of Copenhagen, and the tour takes you to eight tempting food-tasting locations. The tour kicks off at Torvehallerne, the city's new food halls with top quality food and beverages. During the tour, you will be let into the secrets of preparing each of the foods you taste, and you will be introduced to the colourful local people who have been perfecting these recipes for generations.
Highlights of the tour include organic cheese, soft caramel and jam from the island of Bornholm, traditional Danish smørrebrød (open sandwiches) from the legendary Aamands deli, local beer, organic hotdogs and much more. The tour takes about 4 hours in the company of good food and other foodies and as Peter Rasmussen, founder of Copenhagen Food Tours says "Learning about food is synonymous to learning about culture - through food you can appreciate a great deal about the way people live."
The tour costs around £65 and is available all year around. Tickets can be booked on cphfoodtours.dk/booknow.asp.
Getting there
Flight time to Copenhagen is less than two hours. SAS Scandinavian Airlines offers direct flights from Aberdeen, Manchester, Birmingham, London Heathrow and Dublin.
Easyjet offers daily flights from both Stansted and Gatwick.
More travel information
For all information on travelling to Denmark, go to visitdenmark.com.
For all aspects of a great weekend in Copenhagen including accommodation: visitcopenhagen.com.