The ideal cruising experience for the solo traveller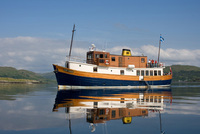 Escape to another world with the award-winning Majestic Line, the perfect small boat cruise for the solo traveller.
A Majestic Line cruise offer a unique opportunity to explore the glorious coastline of Argyll and the Inner Hebrides in significant style and comfort on two beautifully converted wooden vessels, the Glen Tarsan and Glen Massan. Enjoy spectacular scenery and wildlife, exceptional hospitality and delicious food and drink on what customers have described as "the holiday of a lifetime".
Mr Jarvis who sailed in June 2010 said "As I have just booked my 4th cruise with the Majestic Line, I think that speaks for itself. I have travelled all over the world with several different companies but keep coming back."
Marie Thoms, Sales Manager says "As solo travellers well know, the most unfair aspect of going on holiday alone is hefty single supplements. We don't believe in charging extra for going it alone. Both our vessels have six en-suite cabins accommodating a maximum of 11 guests. On each Majestic Line cruise, two of these cabins are reserved for single occupancy with no additional supplement.
As well as solo guests, we often get groups of three interested in our cruises, perhaps a couple treating Mum to a special holiday, who will also benefit from our no single supplement policy. On top of our normal single traveller allocation we are now offering all remaining cabins for single occupancy plus a discount for June (20%) and July (10%) 2012."
Sailing on the lovingly restored vessels is a congenial and relaxed affair. For solo travellers, getting to know fellow passengers is easy over informal communal dinners or after dinner drinks on deck admiring a fabulous sunset or spotting some local porpoises. There's scope to be sociable as well as spend time alone if preferred.
Mrs Morris, who sailed in April 2012 said "This was only my 2nd trip - but have had a great crowd of people, fab crew and wonderful weather."
The size of the vessels allows inshore access to charming and remote areas not available to bigger cruise vessels. Each day the vessels drop anchor allowing guests the freedom to go ashore and explore alone or in groups. There are many interesting historical places to visit and flora and fauna to observe both on land and at sea.
The Majestic Line gets extremely good feedback from their guests mainly due to the high standard of hospitality provided by the crew. They take guests to idyllic and scenic places, cook amazing meals from locally sourced ingredients and generally serve their every need in a most unobtrusive way.
Mrs Buckley, who cruised in April 2012 said "As my first solo holiday since the death of my husband I could not have made a better choice or felt more comfortable. Tea in bed on my birthday and card and rose were perfect!"
The remote areas of the cruise itineraries are best accessed from the sea and surprisingly easy to reach. Guests are offered free pickup from Glasgow Airport for a one-hour transfer to Holy Loch departures in South Argyll. Transfers to Oban departures in North Argyll can be arranged at cost.
For more information, visit themajesticline.co.uk.