The Links at Fancourt - Proudly Africa's #1 golf course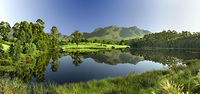 Fancourt's The Links has just been ranked the Top Golf Course in Africa by the prestigious Golf Digest in their Planet Golf "100 Best Courses Outside The U.S".
Golf Digest is published by Condé Nast U.S. and is the #1 distributed sports title in the U.S. with over 6.5 million readers.
Top spot was awarded to the famous Royal County Down in Northern Ireland - with Fancourt (The Links) ranked in a very respectable 30th place. The only other African course listed was Leopard Creek Country Club in Mpumalanga, ranked at 43.
Fancourt CEO, Kerrin Titmas says: 'We are immensely proud to be recognised as the best golf course in Africa by this respected, international Condé Nast Publication. Considering that The Links is only 11 years old, to be ranked right up there with mature golf courses that are steeped in history is such an honour and a tribute to the course's magnificent design and golf course construction".
The Links is ranked ahead of Royal St Georges, Royal Troon, Royal Lytham and St Annes, Royal Liverpool (All British Open Championship courses), as well as other world renowned courses such as Valderrama, Kingsbarns, Sunningdale and Wentworth."
Gary Player, who received the PGA Tour's Lifetime Achievement award earlier this month (only the 10th recipient of this prestigious award) originally designed all 3 of Fancourt's lauded courses and has described Fancourt as "home of perhaps my greatest achievement as a golf course designer, The Links". Fancourt also has an exceptional golf academy that houses a TaylorMade Fitment Centre and state-of-the-art teaching facilities, backed up by the expertise of PGA professionals.
To see the full Planet Golf: "Top 100 courses outside of the U.S". list, visit:
golfdigest.com/golf-courses/2012-05/100-best-golf-courses-outside-us
For more information visit fancourt.co.za