Celebrity status for DVLA personalised registrations auction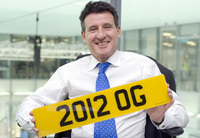 Some of the UK's best loved TV personalities will have to lock horns with other bidders if they want to secure what are arguably their perfect personalised registrations.

The DVLA has included a whole host of registrations which would sit perfectly on vehicles owned by a variety of celebrities, from HO11 LLY for Holly Willoughby, DE12 MOT for Dermot O'Leary and VE12 NON for Vernon Kay through to JO12 DAN for glamour girl Katie Price, aka Jordan, and KA12 REN for Karren Brady of The Apprentice and West Ham FC fame.

The registrations are among 1,750 included in the unique Olympic Games-themed three-day sale set for City Hall in London from Thursday, June 7.

As an official licensee of the 2012 Olympic Games, DVLA Personalised Registrations has upped its own game for this summers' sale; firstly increasing the number of lots from its usual 1,500 and secondly staging it in the capital for the first time in 12 years.

Motorists wanting to join in the Olympic celebrations will not be disappointed thanks to registrations 2012 OG, GO11 DEN and WON 601D. Virtually every sport included in the Games is accounted for, there's HU12 DLE, MEN 100M, RUN 100M and D155 CUS for track and field, ASW 1M for the swimmers and BOX 835T for boxers. Gymnasts are likely to do cartwheels for GYM 734M and, for rowers, there's ROW 601D. The DVLA has accommodated lesser-known sports such as BMX racing by including BMX 601D.

Reserves for the Olympic-related and named registrations range from £300 through to £3,000, however the highest reserves in the sale have been set at £5,000 for 70 O and 80 O.

FU11 HAM, possibly the closest a motorist will get to actually havingFulham on their vehicle, is also being auctioned during the three-day event, expectations are high that it could earn its place in the Agency's own Premier League table of football-related plates.

Two of the top three positions in the DVLA's league table of football club-related registrations are held by London clubs. WE57 HAM and AR53 NAL were auctioned in 2007 and 2004 for £57,000 and £36,000 respectively. V1 LLA holds the third spot, selling for £35,000 in November 2000.

In addition to those registrations already mentioned, DVLA's forthcoming auction will consist of a total of 1,750 registrations, all chosen to offer a selection to suit all tastes, styles and budgets including; ADE 80Y (reserve - £400), AG51 NGH (£900), ART 80X (£400), BA11 BOY (£1,000), BMX 848E (£300), CAB 1A (£700), DE12 MOT, (£1,000), EL11 OTT (£1,500), FU11 HAM (£1,000), F348 GTS (£400), GA11 OPS (£1,000), GE12 ARD (£1,000), HA12 RRY (£2,000), HO11 AND (£2,000), HO12 SES (£1,000), HOT 80B (£350), JO12 DAN (£2,000), JE12 EMY (£1,500), KU11 MAR (£900), MA12 TYN (£1,000), OL11 VER (£4,000), PO11 AND (£1,000), SA11 EEM (£2,000), SA11 NTS (£1,000), SM11 THS (£3,000), SS11 NGH (£2,000), TW11 TER (£1,000), TU12 NER (£1,500), WEM 613Y (£350), WE11 OFF (£1,500).