Hotels under £100 for every occasion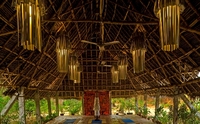 Specialising in handpicked independent hotels in Sri Lanka, India and Zambia, founder of new website hotelsunder100.co.uk, Philippa Kaye, has highlighted her top picks for different occasions. Detailing rooms under one hundred pounds a night, hotelsunder100.co.uk brings together characterful hotels offering charm and local experiences which have all been reviewed by Philippa herself. All prices below are based on a per room per night basis unless otherwise stated.
Best for... A City Centre Home-From-Home

SRI LANKA, Lake Lodge, Colombo (£52): A family owned, value for money, boutique bolthole in the heart of the city, within walking distance of the shopping districts, a choice of restaurants and cultural sites.

Philippa Kaye says: "It was a real pleasure to come across Lake Lodge – it offers a real change of scene in terms of accommodation in Colombo. In a city dominated by faceless corporate hotels or overly priced colonial mansion boutique properties, Lake Lodge offers something pitched perfectly for those who don't want to spend the earth but still want to stay somewhere tastefully decorated where they can feel at home in an oasis of calm in the busy city and not just be another faceless guest."
Best for... A Cultural Setting

INDIA, Labboo'z Lodge, Maheshwar (£22): Based within a 16th century gatehouse to the Ahilya Fort, the lodge's cafe serves up vegetarian meals that can be served on a terrace overlooking the river.

Philippa Kaye says: "There are daily spectacular sunrises and sunsets over the Narmada River and one can wander through the temple complex, leading down to the ghats and observe a way of life that is unique to India, unfolding before your eyes as the sun sets in the distance, creating magical red and orange hues. This can be seen from the ghats or the river as there are boats that one can hire to float gently down the Narmada."
Best for... A Flexible Safari

ZAMBIA, Flatdogs Camp, South Luangwa National Park (£80pp): With a choice of chalets or authentic African tents, guests are able to drive themselves to the camp or fly into Mfuwe Airport.

Philippa Kaye says: "The atmosphere in camp is kept informal and friendly. Flexibility is one of the strong points of this place and (although you can't wander around in the bush on your own) you won't feel 'imprisoned' in a routine that is the same every day. The variety wildlife in the park is simply astonishing but the incredible thing is that a lot of animals are also at home inside the camp itself. Elephant, hippo, giraffe and antelope can often be seen without the need of moving from your tent."
Best for... A Romantic Getaway

SRI LANKA, Palagama Beach Resort, Kalpitiya (£50): Overlooking the Indian Ocean, the resort is located in an untouched part of the west coast with thatched cabanas at the end of sandy paths.

Philippa Kaye says: "Catch Palagama Beach in season and you'll feel as if you've landed in your own private beach hideaway - the cute, quaint wooden cabanas with gorgeous private gardens and sumptuously comfortable beds make the actual experience of staying here such a delight. The beach front cabana is the total romantic option for couples who want to go for that Robinson Crusoe experience. It is also ideal for guests who want a beach stay but need more to keep them occupied."
Best for... A Secret Taste of History

INDIA, Bundi Vilas, Bundi (£54): Built against the rampart walls of Bundi Garh Palace which rise above the town, guests enter the 300 yr old boutique property through its original 40 ft stone archway.

Philippa Kaye says: "I had travelled India for 13 years and lived there for three before I managed to venture to Bundi. No one really talked about it and it was never on the tick list of places to visit. It is certainly one of Rajasthan's best kept secrets. As main stream tourism had passed it by, it hadn't become spoilt and the locals hadn't become greedy at the site of a white face which sadly has happened in the more usual destinations. This is definitely a place to fit in on your trip around India."
Best for... A Yoga and Spa Retreat

INDIA: The Dune Eco Village Resort & Spa, Tamil Nadu (£72): A 35 acre eco-friendly beach hotel a Paradise Spa offering Ayurvedic treatments, Yoga, meditation and alternative therapies.

Philippa Kaye says: "The grounds are spacious and each room is provided with bicycles to get around. One of the main highlights of Dune is the spa comprising a yoga pavilion (twice daily sessions are on the house), gym, an amazing ayurvedic centre (providing some of the best treatments I have had in 15 years of testing!) and an alternative health clinic and watsu centre. Additional activities include visits to the organic farm, milking the cows, pottery and cooking classes."
Best for... An Eco-Friendly Stay in a Tree House

INDIA, Elephant Valley, Tamil Nadu (£41.25): This eco farm hotel is situated in Palni Hills - a 100 acre nature reserve and organic farm which welcomes eco-tourists and nature lovers all year round.

Philippa Kaye says: "The hotel borders a national park and is set in its own 20 acres. There is also a river rushing through the grounds and one of its unique accommodations is a tree house over hanging (literally!) the river. There are wonderful walks, horse riding, bird watching and it is possible to help out on the farm. Elephant Valley also produces its own organically grown coffee and they have their own little production 'factory' so you can see how the coffee goes from plant to packet."
Best for... Being Immersed in Wildlife

INDIA, The Black Buck Lodge, Velavadar National Park (£81.25): Located opposite India's only tropical grassland with a National Park status, the lodge offers air-conditioned stone cottages.

Philippa Kaye says: "Each room is so lovingly designed and situated within perfect viewing opportunities of wildlife that you can't fail to be impressed. With verandas overlooking 70 acres of nature's surroundings, staying at the lodge makes you feel as though you're actually staying within the adjacent Velavadar National Park itself. During the day, everywhere you turn you have blackbucks, birds and fox in clear sight – it's an absolute haven for wildlife."
Best for... Flowers and Birdlife

INDIA, Cardamom House, Dindigul (£50): An eight bedroom property located in a rural area by a lake and surrounded by a pretty garden abundant with flowers and birdlife.

Philippa Kaye says: "Imagine yourself sitting on a veranda, surrounded by the mountains of the Western Ghats (twice as high as the highest mountain in the UK) and looking over the monsoon dependent Kamarajar Lake. Bird watching becomes a fascinating past time (I would never have thought I would be drawn in). Plus there are various walks one can take around the lake or to local temples rarely visited by tourists where at any time there may be a local ceremony taking place."
Best for... Families

INDIA, Ambady Estate, Munnar (£87.50): A family run farm-stay property, comprising of eight comfortable cottages situated in the grounds of a cardamom plantation.

Philippa Kaye says: "The 70 acres of this peaceful, eco-friendly oasis located off the main track of Munnar's winding hillside are seriously hard to leave behind once you've experienced their cardamom-scented charm. Dr Rajesh Madanan and his family make you feel right at home from the moment you step into their world. In line with their eco-friendly stance, Rajesh offers you the chance to plant the seed of a tree on arrival and many of their artworks are made from recycled materials."
Best for... Glamping and Adventure

SRI LANKA, Borderlands, Kithulgala (£60): Located a few hours from Colombo, Kandy and Galle, Borderlands is made up of luxury tents situated on stilted platforms, perched over the Kelani River.

Philippa Kaye says: "Camping has never really conjured up very glamorous images for me, so it was with true delight that I walked onto the 'campsite' of Borderlands and saw my tent for the first time… Not so much a tent but more so a romantic riverside room that just happened to be made out of canvas! Borderlands is all about adventure and fun, so it's pretty essential to try out one of their activities - most are suitable for all ages and fitness levels - a highlight of my time in Sri Lanka!"
Best for... Indian Heritage off the Beaten Track

INDIA: Fort Barli, Rajasthan (£100): A 325 yr old heritage property, located in Ajmer. The walls of the fort rise up from the centre of the village and its ramparts offer a bird's eye view of the village.

Philippa Kaye says: "Prior to the hotel opening in 2009, there was no real reason to visit this destination and so it has remained unspoilt by tourism, and therefore now provides an example of an 'off the beaten track, rural destination' at its best. It is a wonderful village to explore with traditional 300 year-old village houses, a local temple, school, potters, shoe makers and farmers. The hotel can arrange bullock cart rides to visit the sites, often accompanied by smiling children running alongside."
Best for... Mixing with Royalty

INDIA, Kanker Palace, Chattisgarh (£75): The castle-like facade of the elegant Kanker Palace was built in 1937 as the residence of a British Agent and at present lived in by the Royal family.

Philippa Kaye says: "One of the most charming things about this small palace is that it is still a family home and the decor in the main building, living areas, dining rooms and bedrooms is as the family have lived for the last couple of hundred years. The family, Jai and Jolly and their wives are a mine of information on the local area and have wonderful stories including how their father donated their other palace (the much bigger one) to be a local school."
For further information, visit hotelsunder100.co.uk.