Taste the world at Australia's largest food festival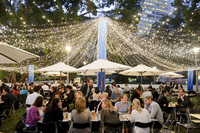 Some of the highest ranked chefs in the world are heading Down Under in October for the annual Crave Sydney International Food Festival, presented by Citibank. They include two of the top five chefs from the recently announced World's 50 Best Restaurants list as well as a host of local and international superstars.
But there's plenty more to the month-long festival, with a feast of over 500 delicious events across Sydney and regional New South Wales throughout October.
Event details
Crave Sydney International Food Festival: October 1 - 31
Key events and dates:
Barbecue Madness (Oct 6) - the festival starts with a sizzle with brilliant barbecues across Sydney, including a fresh-produce themed extravaganza at The Sydney Morning Herald Growers' Market, right by beautiful Sydney Harbour.
World Chef Showcase (Oct 6 - 7) - the big names from the international culinary circuit share their secrets and skills, in partnership with Australia's best. For tickets, see cravesydney.com/visitors
Night Noodle Markets (Oct 8-12 and 15-19) - an authentic Asian hawker market in Sydney's Hyde Park, and the iconic festival event.
Other must-do activities for food lovers include Let's Do Lunch and Hats Off dinners at leading Sydney restaurants, special offers in hidden small bars, dozens of community festivals across Greater Sydney, one-off Showcase Dinners with visiting chefs - including this year's spectacular Italian Showcase gala (October 7) - food tours, and hands-on cooking classes.
NSW Minister for Tourism and Major Events, George Souris, said Crave Sydney International Food Festival is a month-long celebration of extraordinary food experiences in Sydney and regional NSW set against a magnificent backdrop of vibrant city streets, beautiful parks and beaches, and the stunning Sydney Harbour.
"Our chefs and produce are renowned the world over, and we welcome international visitors to experience our world class dining scene at its source and taste some of the more than 500 events on offer across Sydney and regional NSW during Crave Sydney International Food Festival."
Festival Director Joanna Savill said, "Sydney has such a fantastic food culture, from world-class fine dining restaurants to small bars and some of most authentic street food. We also have fantastic regional produce from around New South Wales, so October is our time to really show off."
"With three of the world's 100 best restaurants and five three-'hat' chefs (three Michelin star equivalent), Sydney really is an amazing global dining destination. We really enjoy sharing our city with visitors - from the big names who love coming here for the World Chef Showcase to interstate and international travellers who see spring as the perfect time to visit."
Crave Sydney International Food Festival (October 1 - 31) is a month-long celebration of extraordinary food experiences, celebrating Sydney as a global dining destination enhanced by regional New South Wales produce and wine.
The full Crave Sydney International Food Festival program will be available from August 18 on the website cravesydney.com.
Tickets for the must-do World Chef Showcase go on sale June 12. See cravesydney.com/visitors for all the details on these and other special offers for visitors to Sydney.