BILSTEIN releases Porsche 997 damper upgrades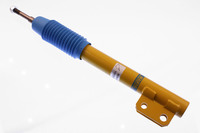 BILSTEIN, the hugely respected suspension manufacturer has released a finely engineered damper upgrade for Porsche's perennial 911. This time, the lucky recipient is the 997 in its non-turbocharged guise.
Although Porsche endowed the 997 with exceptional handling from the factory, as its OEM technical partner, BILSTEIN has used its enviable knowledge of the marque to create the ultimate upgrade that maintains the character and comfort of the original car, but with a sharper focus on handling precision. BILSTEIN's B6 damper package helps to significantly enhance the dynamic abilities of the 997, working in perfect harmony with either the OEM springs or any quality aftermarket offerings.
The BILSTEIN B6 range is designed for those looking for more damping capability, with improved handling and reduced squat and dive, without ruining everyday ride comfort. Using the very latest in BILSTEIN gas pressure technology and inverted monotube construction, each unit is hand finished in BILSTEIN's German factory to surpass even the most stringent of OEM production standards.
Offering significantly greater service life than the standard part, the BILSTEIN B6 dampers also increase active safety through more efficient braking and better traction. Ideal as service replacements, or the perfect way to improve a cherished car, the front units retail at £321 + VAT and the rears retail at £355.00 + VAT.
Visit bilstein.de for more information.