New generation i30 Tourer joins Hyundai's winning range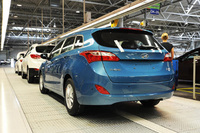 Sales of Hyundai's award-winning New Generation i30 are set to grow further as production of the i30 Tourer begins today at the company's plant in Nošovice, Czech Republic.

Retaining the characteristics that have made its hatchback sibling a European success – quality, value, stylish design, efficiency and driving enjoyment – the Tourer adds greater load-carrying capability to the i30's package.

Orders of the New Generation i30 are already approaching 60,000 units just a few months after coming to market, making it Hyundai's most popular car among European customers in 2012, ahead of the ix35 compact SUV. Hyundai expects the Tourer to boost i30 demand and account for around 30 per cent of the model line's total sales in Europe.

Allan Rushforth, Senior Vice President and Chief Operating Officer at Hyundai Motor Europe, commented: "The launch of the Tourer is the next phase of the New Generation i30's introduction to Europe, following the very positive reception for the five-door. It not only brings greater choice for consumers but also is a testament to the quality and importance of the teams at our European design, engineering and manufacturing facilities."

With a load capacity of 528-litres with the rear seats raised and 1,642-litres when the seats are folded, the New Generation i30 Tourer adds further practicality without compromising on style. The Tourer was developed alongside the hatchback from the outset, enabling designers to fashion a coherent form that bears a strong family resemblance inspired by Hyundai's fluidic sculpture form language.

As it climbs the European sales charts, the New Generation i30 has received several notable accolades. Among these is a five-star rating from Euro NCAP in the organisation's test programme, including a 90% score in the 'child occupant' assessment, with maximum points in the '18-month-old' and '3-year-old' tests.

The New Generation i30 was recently named 'Car of the Year' and 'Best Family Car' by the UK's highly respected Carbuyer.co.uk website.

The New Generation i30 models are produced alongside ix35 and ix20 at Hyundai's Czech plant in Nošovice, where around 900 additional employees were hired when a third shift started in September 2011. During the first five months of 2012, production output has increased 39% compared to the same period last year. Earlier this month a second transmission facility was opened on site, creating a further 97 jobs.

As with all newly-launched Hyundai models, the New Generation i30 comes with Five Year Triple Care, the company's industry-best assurance package, comprising of five years' unlimited mileage warranty, five years' roadside assistance and five years of annual health checks.

UK pricing and specification will be announced shortly.