2012 boost for award-winning Citroen Ready to Run programme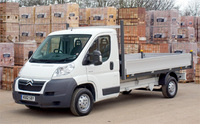 Citroen's award-winning Ready to Run programme has been enhanced for 2012 with an extensive range of new product developments - ensuring it remains the most comprehensive programme of its type in the UK.

Scott Michael, Citroen's Commercial Vehicle Operations Manager, commented; "Citroen's Ready to Run partners continue to maintain the very high levels of technical innovation and quality for which this award-winning scheme is known. Citroen Ready to Run customers now not only benefit from competitive pricing, but also from significant new product developments, which deliver further quality and efficiency gains."

For 2012, the Citroen Ready to Run programme offers unrivalled choice, value and quality.

The new programme offers the following specially bodied vehicles:
Advanced Minibus - Relay 15 & 17 seat minibuses from £21,845*
Buckstone- Relay Luton vans from £17,095*
CoTrim - Dispatch crew vans from £14,595*
Ingimex- Relay dropsides from £14,245*
KFS- Car transporters from £18,445*
Nicholson McLaren - Nemo & Berlingo dual-fuel (petrol/LPG) vans from £ 8,545*
Somers- Berlingo, Dispatch & Relay chiller, freezer & temperature controlled vans from £13,415*
Supertrucks- Glass carrying vans & Relay high-cube, low-load Spacevan from £11,995*
Tipmaster- Relay tippers from £15,895*
A number of Citroen Ready to Run partners have announced 2012 product improvements, including the Ingimex dropside bodies fitted to the Relay. These are now the first - and so far the only - N1 category bodies built and tested to meet demanding new European EN12642 XL standards. This has resulted in bodies that are now even stronger. They incorporate a new headboard with an increased 400kg load capacity ladder rack, a tougher pierced metal section in place of the previous mesh insert and three load lashing rails. In addition, the body's load lashing rings are newly tested to meet DIN755440/1 standards.

Buckstone is now fitting an enhanced aerodynamic nosecone to its entire Ready to Run Relay Luton range for improved fuel efficiency.

Somers has announced further refinements to the design and structure of its Ready to Run chiller/freezer vans to improve both the aerodynamic and thermal performance of the vehicle. Somers is also fitting high output/low energy LED interior lights to all its conversions and is using even more efficient GAH refrigeration units.

All Somers converted high roof Relay vans are now fitted with the company's redesigned and patented Direct Air Cover. In a Somers Relay conversion, the refrigeration plant is inset into the roof, which together with the use of the Direct Air Cover, makes for a neat, aerodynamically efficient installation that aids improved refrigeration performance at vehicle speeds above 20mph.

Supertrucks meanwhile has upgraded the specification of its Ready to Run glass carrying racks for Berlingo, Dispatch and Relay vans, which now have enhanced aerodynamics. There is also the new option for the Supertrucks glass carrying rack of a retractable ladder for faster access to the roof rack. Additionally, more versatile System 2 securing poles are now fitted, which can handle multi-thickness loads of glass.

Supertrucks have continued to develop their low-loading, high-cube dry freight Spacevan range, giving it a more aerodynamic front end and new side door options for even easier loading.

*Manufacturer's Recommended Promotional Price, excludes VED, First Registration Fee, VAT & delivery.