Jamie Oliver returns to Channel 4 with Jamie's 15 Minute Meals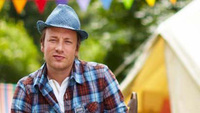 Jamie Oliver returns to Channel 4 daytime with Jamie's 15 Minute Meals - the brand new cookery series that pushes the concept of fast, nutritious, everyday food to the next level.
Building on the phenomenal success of Jamie's 30 Minute Meals, in this series each half hour episode will offer two fifteen minute meals back to back to inspire viewers and show them just what they can achieve in a short space of time, every single day of the week.
Jamie will take viewers through the dishes step by step, and each meal is based on ingredients easily found in supermarkets, using key kitchen equipment and offering plenty of hands-on advice to help the aspirational home cooks serve up a range of fantastic dishes that are a huge improvement on your average mid-week fare.
From fantastic fish to delicious curries, amazing chicken to vegetarian delights, Jamie's recipes will offer great family entertainment, plenty of new ideas, tips and suggestions and are guaranteed turn around Britain's family mealtimes.
Jamie's 15 Minute Meals is made by Fresh One Productions and will be executive produced by Zoe Collins. It will air on Channel 4 in the autumn.