BMW confirms innovative and exciting plans for British International Motor Show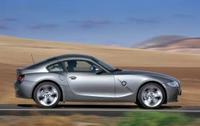 The BMW Group (BMW, MINI, and Rolls-Royce Motor Cars) has announced its plans for the 2006 British International Motor Show at ExCeL in London's Docklands. The three stands, set outdoors within the 11,000 square metre BMW Group Plaza, are set to re-write the rule book on how a company presents its products and activities at a motor show.
The BMW Group Plaza will include: the first BMW world debut at a British motor show; UK debuts for BMW, MINI and Rolls-Royce products; the full range of products from BMW and MINI; a MINI concept; Formula 1, World Touring Car Championship, and Formula BMW show cars; a lifesize BMW Oracle America's Cup showboat; a hole-in-one golf competition; an opportunity to battle 'aliens' from inside a MINI; exclusive areas for BMW, MINI and Rolls-Royce owners and VIPs; a host of fake MINIs; BMW motorcycles. The whole display will be set in a dramatic alfresco arena alongside Royal Victoria Dock and directly in front of the ExCeL entrance.
Jim O'Donnell, BMW (UK) Managing Director said: "We are really pleased to be playing a key role in helping this year's motor show become a real success, especially with such an innovative and dramatic presence. The UK is the only country in the world in which the BMW Group runs production facilities for all three of our brands and we are therefore very enthusiastic about a re-invigorated British motor show.
"As you would expect from the BMW Group, our aim is to engage our audience and we do not want to display our three brands in the traditional manner. So it was with real pride that we agreed these stunning plans with the organisers. I am convinced that every motor show visitor this July will find something of interest within the BMW Group Plaza, and I hope we help kick-start great things for future British International motor shows," he concluded.
Highlights of BMW's activities within the BMW Group Plaza at the 2006 British International Motor Show
BMW will present its first World Premiere of a new BMW model at a British motor show.
21 BMW cars will represent the full BMW range, including the UK public debut of the BMW Z4 Coupé, the 3 Series (2006 World Car and What Car? Car of the Year), a full line-up of M powered cars (M3, M5, M6, Z4 M Roadster and Coupé), and the world debut of the BMW 730Ld Edition Exclusive.
BMW's motor sport and other sporting activities will be strongly represented, particularly with the BMW Oracle America's Cup showboat on display. Visitors will be able to look round the full-size replica of the multi-million pound racing yacht competing for the world's most prestigious sailing trophy.
BMW's three-tiered approach to global motor sport participation is represented with a BMW Sauber Formula 1 show car, Andy Priaulx's WTCC 320si, and a Formula BMW single-seater.
BMW's relationship with England's top international golf championship, the BMW Championship at Wentworth, and its Ryder Cup support at the K Club in Dublin this autumn, is represented with a golf challenge at the show. Hospitality tickets to the 2007
BMW Championship will be on offer as visitors tee-off onto a floating green in Royal Victoria Dock.
Mirroring BMW's product line-up expansion in the car market, BMW motorcycles are also going through a huge development phase. Fans of BMW's two-wheeled machines will have the opportunity to see three brand new bikes: the R1200 GS Adventure, R1200 S, F800 S.
Uwe Ellinghaus, BMW (UK) Marketing Director said: "With the BMW Group Plaza a focus for all the show's visitors, BMW will make a huge contribution to what, I am sure, will be an exciting British motor show. With a world debut, a World Touring Car Champion, a world car of the year, and a world-famous yacht, we have something for everyone to enjoy on our stands."
Real MINIs, fake MINIs, and a concept MINI makes motor show a must-see for mini adventurers
MINI GP (MINI Cooper S with John Cooper Works GP kit) UK debut. The first sight in the UK of the most powerful, production MINI ever. MINI will present GP car number 001 in a series of just 444 GPs due for UK owners.
The full line-up of MINIs will be on display. Since 7 July 2001, when the first MINI One and MINI Cooper cars took to the roads, almost 190,000 MINIs have been sold in the UK. The MINI family now consists of: MINI One, Cooper and Cooper S; MINI One D; MINI One, Cooper and Cooper S Convertible; MINI One Seven, MINI Cooper Park Lane and MINI Cooper S Checkmate; MINI GP.
UK debut of the MINI Concept that hints at a third MINI model confirmed for production. The concept, unveiled at the 2006 Geneva motor show, celebrates Paddy Hopkirk's famous 1964 Monte Carlo victory….and Mini's 'unfair' disqualification two years later.
MINI owners will be invited onto the MINI BARge, a purpose-built floating hospitality venue dedicated to all things MINI.
MINI visitors will enjoy a MINI Fake Invaders game where they battle against fake MINIs from inside a real MINI.
And tipping a wink to those that have tried to copy MINI's successes in the UK since its 2001 launch, MINI has allowed a number of fake MINIs to attend the show. MINI has received confirmation of attendance from a fake MINI shed, a fake MINI piano and a fake MINI ride-on lawnmower, but is trying to prevent a 20 metre high fake MINI crane from spoiling the party.
Andy Hearn, MINI UK's General Manager said: "At the NEC in 2002 and 2004 we presented MINI Adventure Live and MINI Open Air Theatre and introduced a new and exciting concept for motor shows. Just what MINI fans expected. It was always going to be a tough act to follow, but I am sure this year's show-goers will get a great buzz from visiting MINI. They may even get to destroy a few aliens."