New BMW M6 to make UK debut at Festival of Speed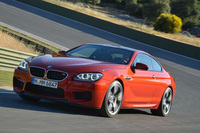 The new BMW M6 Coupe and M6 Convertible will be seen for the first time in the UK at The Goodwood Festival of Speed 28 June - 1 July 2012. Powered by the latest V8 M TwinPower Turbo engine producing 560hp, both new models will run up the famous 1.16 mile hill and will help mark the 40th anniversary of BMW's high-performance M division. Along with a selection of the Bavarian manufacturer's hottest current M cars showcased in the BMW pavilion, Goodwood will provide the perfect stage to celebrate 40 years of M.

The new BMW M6 Coupe and M6 Convertible models represent the most recent expression of the BMW M philosophy. These bold 6 Series flagship models offer searing performance and sporting dynamics, combined with supreme long-distance touring manners and everyday usability. With near 50:50 weight distribution and optimised aerodynamics the latest BMW M6 offers an intense M experience.

Bespoke M design, a driver-focused cabin and cutting edge in-car technology, makes the new M6 the most desirable yet, whether ordered with the lightweight carbon-fibre roof or the elegant retractable soft top.

The new BMW M6 Coupe and M6 Convertible are equipped with the same high-revving, turbocharged V8 engine as the M5 Saloon. This revolutionary powerplant not only produces 53hp more than its ten-cylinder predecessor at 560hp, but it also benefits from a greatly improved torque output over a broad band of revs. It's this 680Nm, available from as low as 1,500rpm to 5,750rpm, that not only gives the new M6 its stunning outright acceleration, but also its commanding flexibility on-road.

The result is a 0-62mph sprint of just 4.2 seconds for the M6 Coupe, with the M6 Convertible following at 4.3 seconds. Both versions have a top speed limited to 155mph. The new M6 Coupe and Convertible go on sale in the UK on 15 September 2012, with the Coupe costing £93,820 and the Convertible £99,020.

Driving the M6 Convertible in the super car run will be one of the UK's best known television presenters and ex-racing driver, Tiff Needell. Steering the M6 Coupe up the hill will be British Touring Car Championship driver, Tom Onslow-Cole.

Whilst Tiff and Tom will be aiming for a quick run up the hill, they will also be in the BMW pavilion for interviews and autographs. They will be joined by legendary Formula 1 commentator, Murray Walker, and by one of the UK's best ever international racing drivers, Steve Soper.On stand too will be Superbike World Champion, Troy Corser, when he's not riding the BMW R90S TT up Goodwood's famous hill.

BMW celebrates 40 years of M
For 40 years, BMW M has brought the thrill and flair of motor-racing to the road with the world's most powerful letter – M. Racetrack performance and road dominance has given BMW M owners the unique reward of having the best of both worlds. Since its creation in 1972, BMW M has grown to become the most successful high-performance division in the automotive world.

To celebrate this key anniversary a plethora of M models, including the new M6 Coupe, will showcase in the BMW pavilion together with other new and potent models from the BMW range.

The BMW pavilion will host three unique examples of the BMW M3. The first is the BMW M3 DTM race car, currentlycompeting in the 2012 DTM season - one of the world's most exciting and competitive touring car championships. The BMW M3 DTM heralds the return of BMW to the DTM race series after an absence of nearly 20 years.

Alongside this spectacular racing car, but also not for sale, is the M3 Chrome Bullet – a show car finished in a full chrome exterior and accentuated with BMW Motorsport stripes. Complementing the M3 line up is a new BMW M3 Performance Edition. Built by BMW M GmbH solely for the UK market, and costing £74,080 OTR, just thirty of these exclusive cars are available to buy.

Also on display will be a new BMW 1 Series 3-door M135i. Costing £29,995 OTR, the M135i is a true M Performance vehicle - designed with aerodynamics in mind while also exhibiting BMW M design flair. The powerful M Performance unit, the 3.0-litre M Performance TwinPower Turbo engine, is not only exceptionally powerful but also lag-free, high revving and efficient. The result is an impressive 320hp at 5,800rpm and torque peaking over a wide rev band: 450Nm from 1,300-4,500rpm. Such performance gives the M135i a 0-62mph time of just 5.1 seconds (4.9 seconds with the optional sports automatic transmission) and a top speed electronically limited to 155mph.

The eagerly anticipated BMW 3 Series with M Sport trim will also be at Goodwood. M Sport trim specification builds on the striking styling of the 3 Series and its agile and dynamic character, through a combination of unique interior and exterior design changes and suspension upgrades. M Sport is now available across the majority of variants of the BMW 3 Series Saloon for £3,000 over the cost of the SE model.

On stand too will be a potent BMW X6 M50d, an example from the new performance range from BMW which is designed to bridge the gap between M Sport variants and the outright M high-performance models. The BMW X6 M50d, costs from £62,280 OTR, and features the most powerful diesel ever to come from BMW. The 2,993cc six-cylinder in-line engine has three turbochargers and offers 381hp and an impressive 740Nm of torque, with a 0-62mph of only 5.3 seconds.

BMW in the Moving Motor Show
Once again, The Goodwood Festival of Speed will present the Moving Motor Show. This exclusive event, on Thursday 28 June, enables participating manufacturers to invite selected customers, media and corporate clients to a privileged preview of the Festival and to drive production cars up the hill.

This year, and to reflect the 40 years of M theme, the M5 Saloon will be in action whilst at the BMW Moving Motor Show stand, the legendary M1 will be showcased with two unique examples of M product– a BMW M3 Group A DTM race car (kindly provided by amateur racing driver, Andrew Busby) and a BMW M635CSi (generously loaned by BMW Car Club).

The M3 was the most successful racing car of all time winning a huge number of races and over 40 championships between 1987 and 1992, whilst the classical M635CSi proved to be a real wolf in sheep's clothing. Using a more powerful version of the BMW M1 engine, this was the third model to bear the now famous M badge and was powered by BMW's thoroughbred 24-valve, six cylinder engine.

The Goodwood Festival of Speed is being held from 28 June - 1 July 2012.