A window on Virginia's exciting world of wine and travel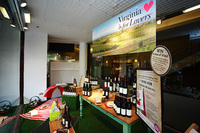 Shoppers on Kensington High Street are experiencing a whole new window on the world of Virginia wines and wine tourism. A full window display, in a prime location at Whole Foods Market, Kensington, London, represents the public face of a summer-long UK marketing campaign for wines from the US State of Virginia.
A relative newcomer to the international wine scene, Virginia has been producing quality wines on a commercial scale for around 40 years. These excellent wines are achieving critical acclaim and the State is now focusing much of its international marketing efforts around promoting wine tourism to Virginia.
The three-month programme includes a joint trade and tourism mission promoting Virginia's 'Commonwealth of Wine', which now boasts more than 200 wineries. It is one of the only wine destinations in the US where visitors can kayak to a winery, enjoy bluegrass music while sipping local wines, sample regional wines at a National Park, or enjoy wine at a National Historic Landmark.
Reinforcing the importance Virginia places on its rapidly growing wine industry and the leisure opportunities this offers the wine lover, the European mission was headed by the Governor of the Commonwealth of Virginia, Robert F. McDonnell. Together with colleagues from Virginia Tourism, Virginia Economic Development Partnership and Virginia's Department of Agriculture and Consumer Services Governor McDonnell spent two-days in London, hosting a series of wine and cultural events.
In addition to in-store tutored tastings with Oz Clarke, the internationally-renowned wine expert there will also be a live, simultaneous Wine Tasting on 24 July. This event will be tutored by Chris Parker, Virginia wine specialist and owner of New Horizon Wines, the sole importer of fine Virginia wines to the UK. This tasting will link consumers and Virginia winery owners via Skype video-conference between Whole Foods Market in Kensington and Charlottesville, Virginia.
There will also be Virginia wine tastings during June, July and August at Whole Foods Market's Kensington store presented by New Horizon Wines. These tastings will feature award-winning wines from some of Virginia's finest wineries, including Barboursville Vineyards, Boxwood Winery, Breaux Vineyards, Veritas Winery, White Hall Vineyards, King Family Vineyards, and Williamsburg Winery.
For further information visit virginia.org/virginiawinetrails, wholefoodsmarket.com and newhorizonwines.com.