Fashion designer goes back to Greek roots for new clothing range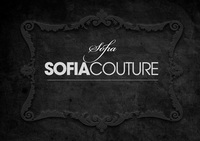 An up-and-coming fashion designer from Manchester is to host her first fashion show for her new, exclusive brand, Sofia Couture, at Manchester's Palace Hotel on Sunday 1st July.
Sofia Dourvari has launched Sofia Couture, a high-end, luxury range of women's clothing inspired by the designer's Greek roots. 20 pieces will be showcased at the event and all are designed based on structures in Greek architecture combined with the natural elements, featuring flowing dresses inspired by the wind and water, amongst others.

All items are bespoke and Sofia Couture offers an alterations service on all garments, making them truly customised and unique to the wearer.

Sofia Dourvari, age 29, from Athens, Greece, studied Fashion Design at Salford University then went on to complete a Masters in Textiles Technology at the University of Manchester. During her studies, she won the Best Designer Award in the International Student Festival (2007).
She has lived and worked in Manchester for ten years and she is looking to break into the vibrant Manchester fashion community. She currently works as a personal assistant at Mode International clothing warehouse.
Sofia says: "Fashion and design have always been my passions and it's a real landmark for me to be hosting my first fashion show. Since graduating I have worked for many fashion houses, both in the UK and abroad. Whilst in full time employment I have still managed to design and create dresses on a small scale for friends and family but it has always been my dream to showcase my collection to a wider audience. The fashion show has already had a great response and I welcome guests from the region to come along and view my unique collection."
Sofia is also keen to secure shop space in the city centre later this year so is happy to receive enquiries from outlets. She is also developing a website which will launch shortly after the show.
The garments will be available to buy on the night and will be altered to suit the size of the wearer. Special prices are available at the event with garments starting from £120.

Tickets for the event are priced at £5.00 and are available by contacting Sofia on 07528 868 053. Signed goody bags will presented to all guests. The event starts at 6pm at the Palace Hotel, Oxford Street, M60 7HA.
Facebook: Sofiacouture
Twitter: sofiadcouture