John Barrowman's Dallas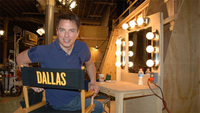 Channel 5 have announced that they have signed up presenter, singer and actor John Barrowman to front a glossy, cheeky and occasionally outrageous exclusive behind the scenes look at the brand new series of Dallas. John Barrowman's Dallas is a 2 x 30 min series and will air in the Autumn as a curtain raiser for the start of the all-new 10 part series. Part 1 is entitled Dreaming of Bobby and Part 2, Shooting JR.
With unparalleled access to both the Southfork Ranch and the downtown set, John Barrowman's Dallas will offer the definitive Dallas fan experience. Barrowman seeks out Dallas regulars, Larry Hagman, Patrick Duffy and Linda Gray.
But the big news is that four relatively new young actors will take up the lead roles: Josh Henderson and Jesse Metcalfe will join sexy twosome Julie Gonzalo and Jordana Brewster in their biggest TV roles to date.
The two docs will also see John Barrowman attempt to pass muster as a real Dallas cowboy with the help of Sue Ellen (Linda Gray) as they invade JR's wardrobe on set, and steal some of his clothes to give John the true Dallas look. John will also follow the two younger Ewings; Christopher (Jesse Metcalfe) as he takes off across the Texas plains on horseback, and & John Ross (Josh Henderson) who is coerced by John into a line-dancing contest in a gay cowboy bar accompanied by none other than the famous Dallas Cowboys cheerleaders.
John will leave no classic moment unturned as he speaks to the stars from the original series about everything from THAT shower scene and the shooting of JR to Bobby & JR's swimming pool fight and Pam Ewing crashing a fuel tanker. To cap it off, John will travel to Larry Hagman's home in California to sneak a peek of his stunning collection of Dallas memorabilia and gets the inside scoop into the most famous – and most hated - TV character of all time.
John Barrowman said, 'I spent many Friday nights as a teenager in front of my TV hanging out with the Ewing clan at Southfork. I loved all the drama and the glamour. When I heard that a new series was being filmed, I knew I had to be part of it in some way. So when Channel 5 approached to me to present this documentary, I packed my stetson and was on the first plane to Dallas.'
Greg Barnett, Channel 5's Commissioning Editor for Entertainment, Daytime & Soaps said, "Like John, I was a big fan of the original series and never missed an episode. John's journey across Southfork will offer existing fans and those who have never seen it the perfect insight into what is going to be one of the most exciting American series on UK screens this Autumn."
John Barrowman's Dallas is a Channel 5 in-house production and the Executive Producer is Paul Crompton. It will air later in the year.