Holiday park's 'SHUSH' factor sets it apart from its peers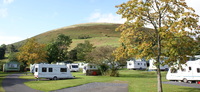 An award-winning holiday park in the Lake District is putting its success down to the way in which it quietly goes about its business of delighting its guests, as well as what it is calling its 'SHUSH' formula.
The Quiet Site, at Watermillock near Pooley Bridge in the Eden area of Cumbria, is the Cumbria Tourism 'Sustainable Tourism' Award winner for 2012 and continuously attracts excellent rankings in leading camping and caravanning league tables, which rate sites nationwide.
The Quiet Site has quietly built up its reputation over many years, but is beginning to shout about its status as one of the very best British holiday park sites for campers, caravanners, motorhome owners and those wishing to visit the site frequently, as owners of static caravans. It also welcomes self-catering families and friends, who can stay in two cottages, which each have a long heritage stretching back to the 16th century, but all mod cons as well.
The Quiet Site's 'SHUSH' formula is seen as the reason for its success and its huge popularity with guests. The first 'S' stands for Sustainability. The Quiet Site is committed to responsible tourism and has a holistic approach to sustainability. This is in evidence around the park, whether this is in the service block, in which the hot water is heated by solar power and the flush water provided by recycling water from the showers, which passes through a reed bed system and then re-used, or in the low energy lighting and special levels of roof insulation.
Water usage is controlled by special aerated water systems, wildlife encouraged through tree planting, bird box provision and other measures and recycling actively encouraged around the site. Guests are encouraged to use public transport and a new Alba bus service now calls at The Quiet Site, as part of its itinerary between Penrith and holiday hotspots such as waterfall, Aira Force, Ullswater, the market town of Keswick and beautiful Blencathra.
The Quiet Site's commitment to sustainability has earned it a Gold level Green Tourism Business Scheme (GTBS) accreditation, to complement its David Bellamy Gold environmental award and it believes it may be the first Cumbrian holiday park to achieve this Gold grading.
The first 'H' stands for 'Home from Home', which is what The Quiet Site is for many guests. Extra large bathrooms allow mothers and children to bathe together and have a proper family bathtime, children have a fabulous outdoor adventure play area set in its own field and thirsty dads, grandads, mums and grannies can even enjoy a specially bottled 'Quiet Pint' in the site's incredible on-site pub, which dates back to 1648 and which houses a playhouse and soft play area, games room with table football, air hockey and table tennis, a pool table and a TV room.
The 'U' stands for Ullswater – England's most beautiful lake, whose leisure and watersports opportunities are just a short stroll or a quick bus or cycle ride from the Watermillock park. The Quiet Site arranges discounted tickets with Ullswater 'Steamers' for those guests wishing to enjoy a lake cruise, but also has beautifully illustrated walks on its website, which encourage those staying to explore the local landscape on foot and enjoy some incredible lake views.
The second 'S' represents 'Service', which underpins everything The Quiet Site does, whether it is acting on guest feedback to continuously improve its facilities and procedures, or giving guests extra assistance with a particular need or enquiry. The level of repeat booking at The Quiet Site is extremely high, whether this is for a Lakeland pod, made of local, sustainable timber and providing an insulated warm and dry framework in which to camp without the hassle of erecting a tent, or in a traditional tent or touring caravan, which have an electric hook-up as standard.
The last letter in the SHUSH formula stands for 'Haven', which is what The Quiet Site provides for guests of all ages. The serenity of the site, set on the Cumbrian fells in glorious countryside, sets it apart from other holiday parks, while its well-equipped public areas provide a safe place to spend leisure time, whether indoors or outdoors.
A specially planted and maintained wildlife meadow enables families to walk amidst the local wildlife, while children can safely play and let off steam in their own dedicated areas, away from traffic, noise and pollution. Even the family dog can find its little piece of peace and quiet, while walking on its lead in the meadow.
The Quiet Site is now shouting about this unique formula, which is in keeping with its entire ethos as a holiday park, not to mention its name. It is ready to share its secrets with more guests than ever in 2012 .. but shush … don't talk about this hidden gem too much, as it's the wow factor surprise that adds the delight when guests finally experience its very special mix … and you wouldn't want to spoil the treat!