Unleash your inner James bond at London's newest attraction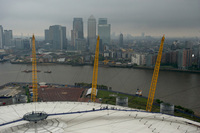 007 fans can now follow in the footsteps of Bond at London's newest and most thrilling attraction – Up at The O2.
Who could forget the unforgettable scene from 'The World is Not Enough' when Pierce Brosnan falls from a balloon onto the iconic roof of The O2 in Greenwich – and there's no better time to unleash your inner 007 than now, in the Golden Jubilee year of Bond films, with a major exhibition opening at The Barbican this weekend and the new film, Skyfall, eagerly awaited.
Up at The O2 opened to visitors late June and combines an exhilarating outdoor challenge with a completely unique perspective on the Capital from one of the UK's most iconic landmarks - The O2 in Greenwich.
The experience begins at Base Camp, a fully immersive briefing area inspired by the world's best climbs and the rich history of The O2. There, visitors are be kitted up in bespoke climbsuits, shoes and safety harnesses by highly trained guides before making their way, via a short set of stairs or lift, to the base of the tent ready to start their climb. From here, climbers are guided, in groups of 15, to a central observation platform via a 190m long fabric walkway suspended between The O2's distinctive yellow masts. From this unique vantage point, visitors can take in stunning, panoramic views of the Capital and its many landmarks including the Olympic Park, Thames Barrier, The Shard and Canary Wharf. An exciting, but manageable, descent back to base will complete the adventure.
Although thrilling, Up at The O2 is a suitable challenge for virtually anyone at least ten years old and 1.2m tall, who is physically and medically fit with a sense of personal adventure. Accessible tours for people with disabilities, including wheelchair users, are planned.
Prices, booking, travel
Up at The O2 is open year round (weather permitting), June-September weekdays between 12pm-8pm (final climb) and weekends 10am – 6pm, October-May weekdays between 12pm and 6pm and weekends between 10am-4pm.
Tickets cost £22 for adults and children (10+); O2customers will be able to get 15% off the ticket price with Priority Moments.
2 customers can purchase tickets via o2priority.co.uk/UpatTheO2.
Tickets can be purchased in advance at UpatTheO2.co.uk or on the day at The O2.
Getting to The O2 by river: KPMG Thames Clippers is the leading scheduled commuter service on the River Thames. Enjoy travelling to and from The O2 with our fleet of hi-speed catamarans and relax in the spacious and comfortable seating, enjoy the variety of snacks and refreshments available or simply watch the stunning views of some of the city's most famous sites along the river. Operating between Central London and The O2 with departures from major piers every 20 minutes. Tickets available online, on piers or onboard. Visit thamesclippers.com for further details.
Getting to The O2 by Tube: Jubilee Line to North Greenwich for The O2 (Zone 2)
Canary Wharf in 5 minutes
London Bridge or Stratford in 10 minutes
Waterloo in 15 minutes
Bond Street in 20 minutes