BMW Hydrogen 7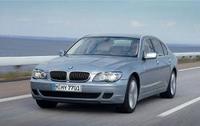 Direct from the factory – BMW UK takes delivery of its first fleet of the world's first hydrogen-powered emissions-free luxury saloon cars.
'Clean Energy' comes to the UK next week with the arrival of eight BMW Hydrogen 7 cars. The virtually emissions-free luxury saloons form part of a total fleet of 100 Hydrogen 7 models that are a major landmark in BMW's CleanEnergy programme: for the first time, Hydrogen 7 models have been produced on the 'standard' 7 Series production line and will be used in normal day-to-day driving in the UK.
Jim O'Donnell, BMW UK's managing director, summed up this important step in BMW's history: "The arrival of our Hydrogen 7 cars could not have come at a better time. Politicians, business leaders, the media and consumers are engaged in healthy debate on the future of energy supply and use. Meanwhile, the automotive industry is committed to cleaner motoring, with a host of possible solutions available today and being developed for the mid- and long-term. BMW is at the core of the future of motoring with tremendous developments in petrol and diesel engines, hybrid powertrains and hydrogen technologies.
"Our EfficientDynamics programme has introduced energy-saving technologies that break through the 60 miles per gallon and one hundred and twenty grams per kilometre CO2 barriers, our new diesels are cleaner and greener than many of today's hybrids, yet power and performance in all of our cars has improved. Clean, green motoring can also be engaging and dynamic, and the new BMW Hydrogen 7 models epitomise that philosophy," O'Donnell concluded.
The fleet of liquid hydrogen powered cars is set to continue its rigorous programme of driving activities on UK roads. They will be in active service as support vehicles at a number of high profile events over the summer as well as transporting key participants at industrial, business and political conferences. A select group of high-profile VIP users will also take delivery of a car for short periods of time in order to experience the 'normality' of emissions-free motoring.
Uwe Ellinghaus, BMW UK's marketing director clarified the importance of these hydrogen cars: "The age-old chicken-and-egg debate has now been resolved. BMW can produce hydrogen-powered cars on the production line and the time is right to engage with business leaders and politicians in order to progress the development of a hydrogen highway – the fuelling and infrastructure requirements that make hydrogen a viable fuel for the consumer.
"We hope that experiencing these cars in normal driving situations will encourage people to join the debate. Without doubt, it will take many years for a suitable infrastructure to develop that makes hydrogen power an easy option for the consumer, but all indications are hydrogen is the only genuine long-term sustainable power source for cars. Public hydrogen filling stations have been developed in Germany and California, and the presence of BMW Hydrogen 7 cars in the UK will undoubtedly bring the future closer for British drivers," Ellinghaus concluded.
The BMW Hydrogen 7 cars will be in action at a number of high-profile events starting on 22 May at the SMMT Test Day at Millbrook followed immediately afterwards when they will be used in the build up to the following week's BMW PGA Championship at Wentworth. The Goodwood Festival of Speed and the Revolve alternative fuel Brighton to London drive event are also in the diary, as well as a number of conferences and environmental summits.
The BMW Hydrogen 7
The BMW Hydrogen 7 is based on the existing 7 Series and comes equipped with an internal combustion engine capable of running on hydrogen or petrol. In hydrogen mode the car emits nothing more than water vapour. Powered by a 260hp 12-cylinder engine, the Hydrogen 7 accelerates from zero to 62mph in 9.5 seconds before going on to an electronically limited 143mph top speed.
With its unique dual power engine, the driver of a Hydrogen 7 can switch quickly and conveniently from hydrogen to conventional petrol power at the press of a steering wheel-mounted button. The dual power technology means the car has a cruising range in excess of 125 miles in the hydrogen mode with a further 300 miles under petrol power. To make this possible the BMW Hydrogen 7 comes with a conventional 74-litre petrol tank and an additional hydrogen fuel tank holding up to 8kgs of liquid hydrogen. Such flexibility means the driver of a BMW Hydrogen 7 is able to use the vehicle at all times, even when the nearest hydrogen filling station is out of range. A filling station has been developed in Wembley to support BMW's plans.
For undiluted driver enjoyment, engine power and torque in the Hydrogen 7 remain exactly the same regardless of which fuel is in current use. The driver can switch between the two without any effect on driving behaviour or performance. The car always gives priority to the use of hydrogen but, should this run out, it automatically switches to petrol power.
Unlike many previous hydrogen concept cars showcased by rival manufacturers the BMW Hydrogen 7 heralds a milestone in the history of the car. It is a full production ready vehicle, which has met all the stringent processes and final sign-off criteria that every current BMW model undergoes.
Why hydrogen?
The BMW Group has been committed to hydrogen technology as a means of reducing car emissions, in particular CO2 emissions, for over 20 years. When running in the hydrogen mode, the BMW Hydrogen 7 essentially emits nothing but water vapour. And, unlike fossil fuels and traditional petrol, hydrogen is available in virtually infinite supply when renewable energies such as solar, wind and wave power are used to produce the liquid hydrogen. Stored in a hi-tech tank which keeps the fuel at a pressure of 3-5 bar and a consistent temperature of –250°C, liquid hydrogen offers significant advantages in energy density compared to other possible alternative fuel sources to enhance the cruising range of the car.
BMW continues to develop ultra efficient, yet very dynamic petrol engines that significantly reduce fuel consumption and CO2 emissions. Together with clean performance diesel cars and the technologically advanced hybrid systems currently under development, the BMW Group has a clear strategy for sustainable mobility with hydrogen as the ultimate goal.