Luxury resort in the Algarve offers relaxing post-summer break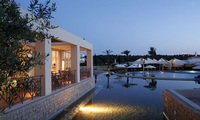 Brits keen to stay put this summer and head off on an alternative post-summer break, are being enticed to Vale d'Oliveiras Quinta Resort and Spa, an exclusive 5* resort in the western Algarve, where they can soak up a weekend of spa treatments and relaxation.
A tranquil hideaway in the valley of the Olive trees (for which Vale d'Oliveiras receives its name), tucked behind the Algarve's famed coastline, the resort is only 40 minutes drive from Faro Airport and a short five minute drive to the beach near the fishing village of Carvoeiro, the quieter end of the region.
Guests can enjoy a private Pilates session and benefit from unlimited access to the Health Club facilities, including indoor heated pool, sauna, Jacuzzi and gym. Guests can also enjoy a relaxing massage and steam bath session at The Spa.
Vale d'Oliveiras offers 22 rooms, two suites and 80 self-contained townhouses. The majority of accommodation is single-storey, a vast contrast to the typical high-rise resorts situated on the coastline. Guests can unwind here for a weekend, or use the resort as a perfect base to explore the natural beauty of the local fishing villages, amazing coastal scenery, unique rocks, adjoining coves and golden beaches of the western Algarve.
5* Vale d'Oliveiras Quinta Resort and Spa offers a 'Moments of Pure Serenity' package from 153,00€ per person*, available for check in until 31st October 2012. Package includes two nights' accommodation (double room), daily breakfast at The Olive Tree restaurant, 60-minute relaxing massage and steam bath session per person and unlimited access to the Health Club. Flights not included. Yoga or Pilates session is 25,00€ per person and must be pre-booked.
For more information on the resort or to book your stay, visit valedoliveirasresort.com.