Dog owners see holiday costs cut at a stroke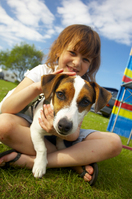 Park Holidays UK definitely has the bow-wow factor for pet-owning families this summer - for it has just declared that dog surcharges will be scratched on all bookings until mid-August.

The group's Fido-friendly offer will save holidaymakers a pat £40.00 a week for a one-dog family, or £80.00 for twice the tails.

Last year, Park Holidays UK says it welcomed more than four thousand dogs on at its 25 holiday parks in Devon and Southern and Eastern England.

Now, with bookings romping way ahead of last summer's figures, the group says it's likely that that four-footed guests will make Park Holidays UK the country's top doggie destination.

"Many families hate being separated from their pets when they go away, but a holiday park solves their dog dilemma at a stroke," said company director Tony Clish.

"There's plenty of room in a caravan holiday home for everyone, and our holiday parks are a great place to exercise a dog on a lead as the grounds are virtually traffic-free.

"Dogs benefit as much as humans from a change of scenery, and owners won't have to fret that their pets are pining for them in expensive boarding kennels far away," added Tony.

Dog-owning families who bone-up on current holiday prices on Park Holiday UK's website (ParkHolidays.com) will also find plenty more to get tails wagging.

The company is currently offering discounts of up to 60 percent on school summer holiday dates at many of its most popular parks with seven nights for six people starting at around £229.00.