Malaysia: Arguably South East Asia's premium sailing destination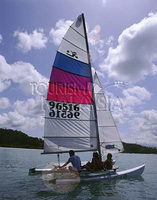 There are a growing number of marinas and yacht clubs throughout Malaysia and the country's unique natural environment provides a colourful backdrop for exciting sailing holidays. Boaters and yachters can explore the islands, coastal estuaries and seas and when taking a break from sailing, can enjoy snorkelling and diving or relaxing on the long stretches of sandy beaches or even get a taste of Malaysia's diverse cultural heritage. Malaysia is home to Asia's premier annual sailing event, The Royal Langkawi International Regatta in January 2013 with 7 night packages from £899.
Langkawi is a great place for sailing holidays as the waters of the Adaman Sea are ideal, the sailing infrastructure is excellent, it is a resort island with an abundance of attractions and is home to Asia's premier sailing event, The Royal Langkawi International Regatta hosted by Royal Langkawi Yacht Club in January 2013. The Royal Langkawi International Regatta hosts many different classes of competition, including Racing Class, IRC Class, Sports Boat, Multihull, Club Cruising and Ocean Rover. Yacht owners can be part of the 11th International Regatta in January 2013 for as little as £111 (langkawiregatta.com).
Langkawi also plays host to the last leg of the The Raja Muda Selangor International Regatta on 16 - 24 November 2012. This annual International Regatta, organised by the Royal Selangor Yacht Club, consists of three overnight passage races covering 240 miles, plus three days of harbour racing in Penang and Langkawi. The Regatta is a great social event with regatta dinners almost every night resulting in the onshore activities being just as exciting as the sailing.
Malaysia's sailing industry has gone from strength to strength ever since Datuk Azhar Mansor, a Malaysian sailor, captured the world's attention and put Malaysia on the marine map with his successful solo circumnavigation of the globe in 1999. East Malaysia offers adventurous sailing with excellent marina facilities at Kota Kinabalu's Sutera Harbour whilst famous West Coast ports frequently visited by sailors include Port Dickson, Port Klang, Lumut, Penang, and Malaysia's largest marina the Royal Langkawi Yacht Club.
For those holidaymakers who love the water but may not have their own yacht or sail boat, the sport of Dragon Boat Racing provides a whole new experience to a water race. Dragon Boat Racing is popular all over Malaysia, in particular in Penang, where the annual Penang International Dragon Boat Racing Festival is held. The festival takes place at the end of June each year at the Teluk Bahang Dam and attracts teams who are members of the International Dragon Boat Federation from all over the world and each race has a maximum of twenty two participants, all of whom need to have strength, endurance and synchronized movements to win. The paddlers face the drummer who stands at the front of the boat, signalling their team to paddle on every beat of the drum. The beating drums, teeming crowds and colourful dragon boats provide an electric atmosphere.
Visit tourism.gov.my for more information.