Bunga Bunga Olympics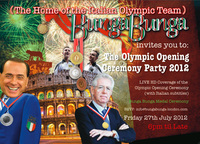 In honour of the Olympics, this summer Bunga Bunga will be transformed into the ultimate Italian players lounge. Bunga Bunga will have an Italian medal count board keeping a running tab on how many golds, silvers and bronzes have been bagged by the Italian's. The Italian National anthem will also be played and sung throughout the Olympics, with the waiters and bar staff all standing still for a few moments to show appreciation for their Italian stallions and support by flying the Italian flag after each victory.
Bunga Bunga will be hosting an opening ceremony for the Olympics on 27th July, where party goers will also have a chance to win their own gold Bunga Bunga medal for the best karaoke performers of the night. For those that need a little Dutch courage to compete in this Italian affair, Bunga Bunga are also launching a brand new cocktail called the 'La Torcia Olympica' which incorporates a real flame, with Grey Goose Vodka, Amaretto Saliza Veneziano shaken with Pink Grapefruit Juice and finished with home made Bunga Mandarin Bitter and Terra Serena Rose Prosecco. Breaking all records, the Olympic flaming torch cocktail will be a yard high, enough for 4-5 people to share…depending on their drinking stamina. With karaoke in full swing, Bunga Bunga will also be trying to make an Olympic sport of the new drinking game, 'Shot Put'.
Bunga Bunga was launched last autumn by dynamic duo Duncan Stirling and Charlie Gilkes. Deriving its name from Italy's most titillating joke, this tongue-in-cheek bar and pizzeria serves authentic cocktails and cuisine in a vibrant space dedicated to Italy's finest icons and also houses an entire floor dedicated to the world's most kitsch competition: The Eurovision Song Contest.

Let the games begin or as Berlusconi would say Il gioco ha inizio!
Bunga Bunga
37 Battersea Bridge Road,
London,
SW11 3BA
Website: bungabunga-london.com