The Red Bull Cliff Diving World Series - round 3, The Azores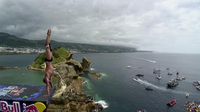 0.1 points decided the winner of the weekend's third stop of the 2012 World Series on the volcanic archipelago of the Azores, Portugal. It was the closest victory to date since the kick-off of the Red Bull Cliff Diving World Series in 2009 and made Russia's Artem Silchenko the third winner in three competitions this season.
Orlando Duque (COL) came just behind, in second place, but regained the overall lead of the 2012 World Series. He was followed by World Series champion Gary Hunt (UK). More than 2,000 spectators crowded the waters around the 28m take-off points on the offshore islet of Vila Franca do Campo to watch the 13 athletes go back to the roots and jump directly off the cliff face in the competition's first two rounds.
An impressive monolith of volcanic stone and the outside crater walls of the circular-shaped islet less than one kilometre from the coastline of Saõ Miguel were the take-off points for the required dives. The platform construction for the difficult optional dives was placed at an extraordinary 28m above the ocean. Europe's weather lab lived up to its name and provided windy, cloudy and at the same time sunny and wavy conditions. The most picturesque landscape on island and islet was only emphasized by the spectators' standing ovations for the divers.
This "Rock'n'Dive" experience had never been seen before in a Red Bull Cliff Diving World Series stop and was a very special moment for the athletes as well as the spectators.

Results Stop 3, Azores
1. Artem Silchenko | RUS | 465.60 pts
2. Orlando Duque | COL | 465.50 pts
3. Gary Hunt | UK | 459.45 pts
4. Alain Kohl | LUX | 416.70 pts
5. Kent De Mond | USA | 411.00 pts
6. Blake Aldridge | UK | 403.60 pts
7. Michal Navratil | CZE | 385.30 pts
8. Anatoliy Shabotenko (wildcard) | UKR | 375.90 pts
9. Steven LoBue | USA| 262.20 pts
10. David Colturi | USA | 253.80 pts
11. Cyrille Oumedjkane | FRA | 246.00 pts
12. Todor Spasov (wildcard) | BUL | 233.85 pts
13. Jorge Ferzuli | MEX | 133.50 pts