Top jobs for backpackers visiting Queensland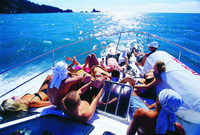 With an 8.9% drop in UCAS applications for 2012, many are heralding the 'return of the gap year' for this year's school leavers, who are faced with the new, higher tuition fees of up to £9,000 per year. With working abroad an attractive option for many in a tough domestic jobs climate, those that decide to discover the world and experience new cultures can head to Queensland, Australia this September where they will not only see iconic landscapes but can also find work.
Queensland offers jobs for backpackers to suit a range of skills and personalities, with the opportunity to develop the CV ensuring increased employment credentials on return to the UK. Once the work is done, Queensland offers an amazing range of adventures from 4WDing on Fraser Island, sailing the Whitsundays and learning to dive on the Great Barrier Reef. What better way to spend a gap year than in Queensland?
Here are some top jobs for backpackers visiting Queensland:
Finding Nemo Coordinator, Great Barrier Reef
Skills gained: working with groups, teaching
Personality: fins instead of feet, unafraid of reef encounters
Discover the beauty of the Great Barrier Reef; one of the Australia's most remarkable natural gifts and home to over 3000 individual reef systems and coral cays. Diving in the World Heritage listed reef is on every backpacker's to do list and as a qualified Divemaster, you will have the opportunity to teach new skills and gain an invaluable insight into a treasured ecosystem, while meeting like minded people.
Courses start at £1400 to gain full qualifications. Go to prodivecairns.com for more information.

Sweet Potato Sorter, Queensland wide
Skills gained: budgeting and working as a team
Personality: outdoorsy with high energy levels
With abundant work on farms and orchards, Queensland offers many places for fruit picking and harvesting of tropical fruit and vegetables. Work can be found in the hinterlands, large areas of terrain and farm land along Queensland, only 40 minutes from the coast line.
Bundaberg, four hours north of Brisbane, employs fruit-pickers between April and December, travel north from May to November to Townsville to work as a mango-pickers. Advantages include the short-term contract, social nature of the work and the chance to extend your visa by a full 12 months by mucking in and filling the bins in rural Australia for a minimum of three months.
For information on harvesting and fruit-picking, go to goharvest.com. For seasonal crop-picking calendar, visit fruitpicking.org.

Yacht Hand, Whitsunday Islands
Skills gained: orienteering, organisation
Personality: can tie a good knot, believes in old-fashioned elbow grease
As Australia's second leading tourism employer, the Whitsundays are a great place for backpackers to find work. The 74 islands of the Whitsundays are home to a vast array of marine life. From party boats to high action maxi yachts, the Whitsundays is a sailing destination for all. Most jobs will be found in Airlie Beach, one of the liveliest spots on Queensland's east coast and the gateway to the Islands. Spend your days working on the boats and your nights dancing in the bars. Find work as a paid deck-hand or exchange your hard work for the trip, accommodation and food.
Learn to sail before you start working. STA offers a 24 day course, starting at £1743. For more information, visit statravel.co.uk and explorewhitsundays.com for more information.

Little Nippers Instructor, Surfers Paradise
Skills gained: working with children
Personality: patient, responsible
You will be the envy of your friends and family as you spend your working hours on the beautiful beaches of Queensland. Becoming a surf teacher for little nippers is a challenging but exciting time. Before hitting the surf, you will be required to undertake extensive training and recruitment set by the Australian Lifeguard Service (ALS).
Casual or contract lifeguards are employed during busier periods so Christmas holidays is an ideal time to find work. For further information on the ALS (Queensland) and international qualifications, including prices, visit lifesaving.com.au.
Jillaroo or Jackaroo, Outback
Skills gained: experience caring for animals
Personality: calm under pressure, practical
Working as a Jillaroo or Jackaroo on a cattle station varies extremely from a nine-to-five city job. A typical day could include mustering cattle by either horse or motorbike, building or repairing fences, working cattle in yards including branding, earmarking and vaccinating, as well as maintenance work of odd jobs around the homestead, welding gates, driving trucks, checking on watering points or working on engines. A farm-stay at Wainui, a 3.5 hour drive from Brisbane near Toowoomba, employs approximately 16 staff, including feed millers, stock-people and farmers.
To find information and assistance on jobs available in the outback, visit visitoz.org. For more information on rural jobs, go to jobsearch.gov.au/HarvestTrail.

Hostel worker, along Queensland's coast
Skills gained: team work, general management
Personality: personable, social, shift worker who likes to party
Hostels are a great way to earn free room and board. Many backpackers extend their stay and become a part of the hostel operations, seduced by the opportunity meet backpackers from across the world. You'll build a network that allows you to travel to other destinations at reduced prices and enjoy the perks of hosting legendary hotel entertainment programmes.
Hostel work can be found right along the Queensland coast, with hostel hot spots in Brisbane, on the Gold Coast and further north in Cairns and the Great Barrier Reef. These jobs will allow you to stay in one place for an extended period of time and become immersed in the local community. Peak season runs from May to December.
Naomi Mack, working at JJ's Backpackers, Cairns
"I get to hear about everyone's adventures and get inspiration for my own travels. I like to get out into the rainforest and hike the trails – so far I've visited the Daintree rainforest, Atherton Tablelands, Port Douglas and the Great Barrier Reef. My most memorable moment so far seeing turtles and black-tip reef sharks."
Gail Jones, working as a Sweet Potato Sorter at Mortimer's Farm, Bundaberg
"I chose Queensland for my working holiday as there is lots of harvest work and lots of beautiful beaches. At the weekend I like to head down to the beach and use the free BBQ areas or go to Burnett Heads, for the fishing spots.
Simon Woods, working as a Sweet Potato Sorter at Mortimer's Farm, Bundaberg
"The weather is fantastic all year round, I can easily visit Fraser Island, which is within driving distance. I'm looking forward most to scuba diving on the Great Barrier Reef, it will be a lifelong dream realised."
Yasen Hristov, worked as a bartender at Birdees, Brisbane
"Brisbane is lively, there's always something to do, and the weather is good all year round. Working here, I was able to explore the Gold Coast, Magnetic Island, Townsville, Airlie Beach and do a road trip from Cairns to Port Douglas – the beach on one side, the rainforest along the other it's just amazing."
Further information:
For general backpacker job recruitment information, visit backpackaround.com.au/jobs.html.
For further information on working holidays in Queensland, visit
experiencequeensland.com/iss/uk/travel-info/backpackers/more.
For information on Backpacking in Queensland, visit backpackingqueensland.com.
For more information on Queensland, visit experiencequeensland.com.