La Mania launches at Harrods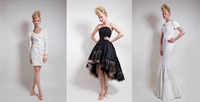 La Mania, the international fashion house under the creative direction of Founder Joanna Przetakiewicz and the Honorary Patronage of Karl Lagerfeld will make its international debut at Harrods this July with a collection of stunning dresses available in the store's Eveningwear department.
The launch of La Mania at Harrods marks the latest chapter in the exciting evolution of the fashion house which made its first appearance in London during February's London Fashion Week with a spectacular showcase at the Royal Academy of Art and subsequent pop-up as part of the British Council/British Fashion Council's International Fashion Showcase. Founded just two years ago, La Mania has very quickly established itself as one of the brightest new names in international luxury fashion and the market leader in its native Poland.
La Mania has been designed for modern, fashion-conscious women, with collections of sophisticated high-end, yet accessible fashion which combines classic design and contemporary, minimalist tailoring. The simple cuts of the dresses emphasize the luxury of high-quality fabrics and refined, feminine details.
The fashion house is the brainchild of Joanna Przetakiewicz, a leading Polish entrepreneur; and it is her friendship with the fashion icon Karl Lagerfeld which has resulted in his Honorary Patronage of the label.
Joanna Przetakiewicz commented on the launch that: "London is one of the world's most important global centres for fashion and Harrods is a world-class store, attracting visitors from across the globe. We are delighted that La Mania is able to make its international debut in such a prestigious location and that it will play such a pivotal role in our wider plans to grow the business."