Authentic, exclusive safaris off the beaten track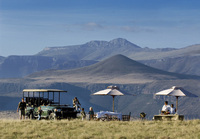 Samara, a luxury private game reserve with 27,000 protected hectares now claims 2% of South Africa's current wild cheetah population with the recent birth of two further cubs– a testament to its wildlife conservation efforts. In the heart of the Great Karoo wilderness, one of South Africa's most fascinating regions which long has been inaccessible for holidaymakers, tourists can now experience an authentic, exclusive safari.
No minibuses. No 20 jeeps around a lion. No caged animals.
Unlike the overhyped safaris provided by many of top lodges in the too-busy reserves farther north, Samara offers guests the rare chance of experiencing the Great Karoo's vastness and wild beauty in an exclusive setting, shared with just a handful of other people.
Endangered species roam Samara, and a highlight is the rare chance to track cheetahs - one of the most endangered cats on the continent - on foot. Miracle cheetah Sibella – a superstar among local cats - almost died at the hands of hunters and shouldn't be alive today, but under the protection of Samara, she has had 18 cubs, including two recently.
The reserve
Located on the plains of the Camdeboo in the Eastern Cape, Samara was formed to recreate the original wilderness that once had springbok herds three miles long. The reserve's conservation efforts allow visitors to see animals not seen in some of the more established parks, specifically cheetahs and Cape Mountain zebras, both of which are endangered and roam freely at Samara because there are no lions – at this stage - to threaten them. Cheetahs are the stars here and are collared with GPS transmitters, so with a guide guests are usually able to see them. Besides cheetah and Cape Mountain zebras, there are eland, steenbok, giraffe, Burchell's zebra, meerkat, tortoise, red hartebeest, springbok, aardvark and many other species.
The scenery is extremely beautiful and varied, with mountains and plains that encompass four of South Africa's seven biomes: Nama Karoo (Karoo bushland), thicket or valley bushveld, savannah and plateau grassland. Guests can enjoy sunset views over hundreds of miles of plains reaching towards purple mountains in the distance; mountain plateaus shimmering with golden grasses and dotted with wild zebra and wildebeest; caves painted with ancient rock art; steep valleys with ancient shepherd trees and acacia speckled with yellow pompoms.
Accommodation
The five-star Karoo Lodge is the heart and soul of Samara, where twinkling paraffin lamps welcome guests home after an evening game drive out on the plains. A stylish interpretation of the original Karoo farmhouse, the old homestead features three beautifully appointed luxury suites, each individually decorated with an Afro-chic collection of antiques, zebra skins, African ceramics and nineteenth-century lithographs from South African artists. All are stylishly decorated with the help of one of South Africa's starry interior designers, John Zwiegelaar. All suites open out onto a wrap-around veranda – a perfect place for long, lazy afternoons gazing over the veld.
A stone's throw from the homestead are three free-standing Karoo Suites – in effect, recreations of typical small Karoo houses – which offer the same level of luxury, with the added benefit of more privacy and quirky touches such as an outdoor shower in an old Karoo water tank. Expect a romantic fireplace for those chilly Karoo nights, free-standing Victorian baths to wash away the dust and yellow-wood four-poster beds to lull you into sleep.
The Manor House is a contemporary take on Karoo style, has four more suites for up to eight guests and views of an infinity swimming pool and a water hole.
Activities
While offering a host of safari treats (picnics, game drives, guided walks, cheetah tracking on foot), there are other attractions that set Samara apart from other safari camps. Situated on the land where the bushman once roamed, guests can see an extremely rare khoisan painting of a cheetah evidence of bushman rock paintings and discover the fossils of creatures that lived 253 million years ago.
Samara prides itself on being a family-friendly game reserve. Children of all ages are welcome at the Karoo Lodge, with special activities such as fossil-finding and bug-hunts to keep them entertained between game drives. A special play area is thoughtfully set up a away from the lodge, where children can pitch tents, play games and go wild. Samara also offers a gap year programme that allows volunteers to work on ongoing wildlife research and management projects as well as assist with community development and environmental education programmes.
How to get there
Samara Private Game Reserve is located in the Eastern Cape, 53 kilometres from Graaff-Reinet (South Africa's fourth oldest town). Guests can access Samara by car (about 2.5 hours from Port Elizabeth), or via a 45-minute chartered flight from Port Elizabeth Airport to Samara's private airstrip. Samara is also brilliantly placed for those who travel round the country by car, being just two-and-a-half hours from the end of the Garden Route.

Rates at Samara start from R 1500.00 (low season) per person per night. The Manor House is not sold per suite but is an exclusive use lodge, starting from are R12000 per night for 1-4 guests. Rates include all meals, two daily game drives, tea and coffee and participation in Samara's children programme. For further information, visit samara.co.za.