BMW M3 and M6 receive further enhancements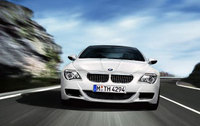 The BMW M6 Coupé is to be offered with a competition package aimed at offering enhanced driving dynamics. The new package features a revised suspension configuration comprising a 12mm lower front end and 10mm lower rear, retuned Dynamic Stability Control and ABS settings, and a modified Variable M differential for greater cornering capability.

Visually, a competition package-equipped M6 Coupé has a new bonnet with precision lines for an increased sporting look and M double-spoke light alloy wheels with wider rims that are shod with new Pirelli P Zero Corsa System tyres. The competition package costs £2,180 in addition to the £84,475 OTR price of a BMW M6 Coupé.

Following the announcement of the new BMW 3 Series Saloon and Touring, the M3 Saloon has also been updated for September. The pinnacle of 3 Series Saloon ownership now gets the same rear end enhancements as the 'standard' cars. A new light cluster with integrated LED indicators features alongside changes in the profile of the boot lid and the rear valance. Inside, and a light redesign of the centre console and the introduction of pearlescent chrome switchgear adds an additional tier of refinement.

News of the changes coincides with the introduction of the new iDrive platform on all 3 Series models and the 5 and 6 Series ranges for cars built from September. All 3 Series models now have active head restraints as standard to guard against whiplash injury in a rear end accident.