Maserati and Forte Village: Luxury and exclusivity meet in Sardinia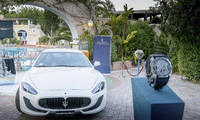 Together with a common goal: offering their clients a unique and unforgettable experience. Maserati and Forte Village share a history of successes and of common principles, such as the coexistence of innovation and tradition, the constant attention to the needs and tastes of their clients and the passion for excellence of its products and services.

The collaboration agreement reached between the Trident marque and the most exclusive resort in Sardinia (Italy), allows clients at Forte Village to experience the luxury and comfort of the Quattroporte Sport GTS Awards Edition during the 45-minute transfer from Cagliari airport to the resort and to test drive the latest models in the Maserati range. Accompanied by professional driving instructors from Dorado, a company founded by former Ferrari F1 driver Andrea de Adamich, clients will be able to enjoy the sound of Maserati's V8 engines in the amazing scenery of Southern Sardinia. Throughout the Summer, a team of professional drivers led by former World Rally Champion Alex Fiorio will be showcasing the style and performance of the latest Maserati models: the new GranTurismo Sport, a four-seater coupe delivering 460 HP, the GranCabrio, Maserati's first four seater convertible and the ultra-sporty GranTurismo MC Stradale, the fastest, lightest Maserati currently in production, directly derived from the company's racing expertise.

To welcome the arrival at Forte Village of the new Maserati GranTurismo Sport, Maserati and Bulgari organised an exclusive cocktail event to showcase the car alongside the Bulgari Octo Maserati watch: a stainless steel chronograph, which seals the partnership between these two icons of Italian luxury. Last night Magno Cristiani, Resident Manager of Forte Village and Alex Fiorio acted as masters of ceremonies and unveiled the amazing display in front of 100 selected guests. As of today, the Maserati GranTurismo Sport will make its official debut on Sardinian roads.

For more information on the Maserati range, including the new GranTurismo Sport, visit maserati.com. For more information on Forte Village, visit fortevillageresort.com.