Boating holidays in Europe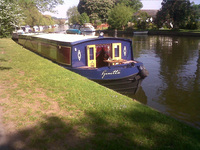 If you're looking for a break with a difference this year, how about a getaway afloat on a British or European waterway? HomeAway.co.uk, the holiday rentals website, advertises 140 private boats available to hire in Europe; from a river in Kent and a romantic French canal to the centre of Amsterdam, there's a wealth of options to choose from.
Renting an unusual property such a boat guarantees a really memorable holiday and provides a break from the norm. Thanks to many people buying unique properties and turning them into dream holiday rentals, HomeAway.co.uk now has many exceptional rentals on offer, including plenty of private barges to hire worldwide. You can even opt for customised private cruises, as many owners can arrange trips on request.
Choose from one of the boats below that include a modern boat on river Thames, a stunning houseboat on the canal in Amsterdam and a romantic gite boat moored on Canal du Midi near Toulouse in France.
Prices quoted are per property and correct at the time of going to press.
UK
Brand new holiday boat in Reading
3 Bedrooms, Sleeps 8. From £225 per property per night
The boat is a brand new canal wide-beam, fitted to an exceptionally high standard. The interior is spacious with a fitted kitchen, complete with all mod cons and a beautiful open plan saloon/dining room. The saloon area opens out on to the front deck so you can sit outside and enjoy the stunning River Thames views. The holiday is self-catering, but the owners can provide a continental breakfast. After boarding the boat, they set sail and cruise to your destination. They then moor you up and leave you to enjoy your holiday. You can stay in one destination or cruise to several destinations. The owners do the driving for you so you can experience life on the Thames without the stress of driving the boat yourself.
Dutch barge moored on River Stour in Sandwich
2 Bedrooms, Sleeps 4. From £300 per property per week
Dragonfly is a beautiful 100 year old Dutch barge, situated on River Stour in Sandwich. Accommodation is comfortable and cosy; there are two double cabins, a comfortable sitting area with TV/DVD, a shower and toilet room, galley and dining area with microwave combi cooker, electric hob and fridge. There is an additional seating area in the wheelhouse and an outside deck sitting area with picturesque views. There are two kayaks plus life jackets available for use. There is a small private garden with outside seating and BBQ. Trips can be arranged on request.
The Netherlands
Stunning houseboat in Amsterdam
1 Bedrooms, Sleeps 4. From £149 per property per night
Over 100 years old and once a sailing boat (a Tjalk) the Medicijnman (Medicine Man) was transformed in the late 1950s into a characterful houseboat. With many old features left in place, it gives you an enchanting feel of what it was like to live on the water back then. It is located in the old centre of Amsterdam in an oasis of tranquillity with the central station, the Dam Square, well known theatres, famous museums, great restaurants and other cultural attractions within walking distance. The inside is light, spacious and is well equipped with modern facilities. The bedroom has a double bed and four authentic portholes. The living room has panoramic windows, which let in a lot of light and give beautiful views just above water level.
France
Romantic gite boat moored on Canal du Midi
1 Bedroom, Sleeps 2. From £400 per property per week
Built of mahogany and teak this is a newly restored boat, permanently moored in the pretty port of Moissac, near Toulouse. The main bedroom is at the front of the boat and has a full size double bed, en-suite shower, dressing table, small hanging space and built in cupboard. The main cabin has a U-shaped sofa, a table and another slightly smaller sofa. The wheelhouse has a bar table, fold-away chairs and a 360 degree view of the port.
To book, visit HomeAway.co.uk.