Cheltenham Fashion Week to pull in the crowds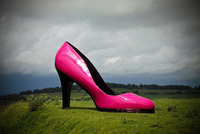 Fashion lovers from across the UK are in for a treat this September with the launch of Cheltenham Fashion Week. The week long programme will run from 17 – 21 September, incorporating a huge array of events across Cheltenham and the surrounding Cotswolds.
Cheltenham Fashion Week will aim to transform The Cotswolds into the creative fashion capital of the South-West for one week only with an abundance of activity such as workshops, careers seminars, catwalk shows and shopping events. High profile industry figures including retail giant George Davies and TV's Caryn Franklin are all set to take part.
Sam Bawden, Founder of Cheltenham Fashion Week, is passionate about the fashion industry and committed to providing a platform on which creative individuals can shine.
Sam said: "Throughout the week, The Cotswolds will become an epicenter for image conscious individuals beaming with creative flare. Our area is bursting at the seams with young talent and up and coming designers. We want to embrace that and celebrate everything about the industry both locally and nationally. Cheltenham Fashion Week will give aspiring designers a fabulous chance to showcase their work and provide local people with a chance to celebrate great clothes."
Cheltenham Fashion Week promises something for everyone. From designer shopping days at Cowley Manor to eBay workshops and millinery competitions, this event is aimed at people of all ages who share one thing in common – a love of fashion.
Young people of all ages will also have the chance to take part in Cheltenham Fashion Week from primary school level upwards. Two student fashion shows will provide a platform for aspiring designers to showcase their work. Careers talks and workshops from industry professionals will give older students the opportunity to hear first hand about the industry and its pressures.
Cheltenham Fashion Week will also embrace the power fashion has on positive body image.
Sam said: "I love how fashion makes us feel whatever our age and body shape. You don't have to be tiny to look tremendous. We will be celebrating real women and their body shape."
Key events in Cheltenham Fashion Week include:
Sessions with top fashion icons and retail gurus
TV's Caryn Franklin will be talking about her fashion initiative "All Walks Beyond The Catwalk' – a campaign to celebrate body diversity. Meanwhile Sarah Curran, founder of global online retailer my-wardrobe.com, will be discussing her inspiration, challenges and passion for the fashion industry.

Student Show- Gloucestershire College - Tuesday 18 September
In association with retail icon George Davies and schools from across Gloucestershire, this is a high profile Student Show showcasing young talented designers aged 7 to 16.
Boutique 24– Cowley Manor - Thursday 20 September
Cowley Manor will play host to 24 different designers as the hotel transforms into a stylish replica of London Fashion Week's Somerset House. Each room will become a pop-up designer boutique from a diverse plethora of retailers with a range of styling and beauty workshops also taking place
"One Night Only"– Cowley Manor - Thursday 20 September
An evening of fine dining and glamorous fashion plus a couture fashion show in aid of The Cheltenham Fashion Week Official Charity, Hop Skip and Jump.
Careers seminars
These events are aimed at young people with the desire to get into the fashion industry. Brides Magazine 'Designer of the Year' Tracy Connop will be sharing her experience of the industry at an event at Gloucestershire College. National fashion journalist Sarah-Hayley Owen will also be talking about the highs and lows of working within the fashion media.
Other events include:
eBay Workshops with experts from Intranet Future
Chic Wardrobe Sale – an event for people to sell their pre-loved clothes
Who wants to be a Milliner? – a live hat making competition
Mobile Photography: Street Style competition
Design Your Own Shoes competition
Headline sponsors for Cheltenham Fashion Week include my-wardrobe.com, Mercedes Benz, Coutts, Chapel Spa, Cowley Manor, Gloucestershire College, Silver Ball PR and Cheltenham Creative. Additional event sponsors include Moet & Chandon, The Stuart Holmes Hair and Beauty Spa, B&Q and Barnsley House.
Tickets for all Cheltenham Fashion Week events will be available online at cheltenhamfashionweek.co.uk.
Rates available at The Montpellier Chapter Hotel during Cheltenham Fashion Week from £145. themontpellierchapterhotel.com