Restore the body, mind and soul at Spa Village Resort Tembok, Bali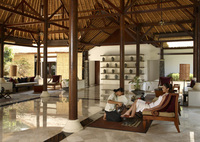 Fringed by the volcanic black sand beach of the Northeast coastline, Spa Village Resort Tembok, Bali is a sanctuary of peace and tranquillity, immersed in gentle spirituality and age-old traditions of the Island of the Gods. In October, Spa Village Resort Tembok, Bali will hold its annual Oracle Retreat, teaching self-care practices which restore the body, mind and soul, leaving one feeling renewed and replenished.
Commencing 27th October until 6th November, 2012, the Oracle Retreat invites guests to learn life-changing skills and techniques through a variety of activities and excursions such as life workshops, '5-element form', yoga, meditation and holistic aromatherapy. Internationally renowned wellness practitioners will guide participants on the path to achieve true inner happiness through transformation; this year's Oracle Facilitators include Diana Manilova -psychic healer and author, Marc Cofer - guiding in brain training, and Dewi Hopley - aroma and holistic massage therapist.
Through the daily workshops, the Oracle Facilitators will guide participants to connect the five senses to the elements of water, fire, earth, air and spirit (self). These techniques will help guests to rebalance and refocus, and with regular practice, achieve inner peace and harmony when faced with the external stresses of daily life. Once balance is achieved between the body, mind and soul, a sense of renewal and clarity will follow, with the heart free to be the guide on one's individual path to happiness.
The ten-night, 11-day retreat includes accommodation in a Kamar room, return airport transfers, healthy daily breakfast, family-style lunches and dinners, non-alcoholic drinks, one welcome foot ritual, one 50-minute Balinese massage, daily workshop sessions with the Oracle Facilitators, a celebration farewell dinner at Wantilan Restaurant and a traditional Balinese performance.
The Oracle Retreat programme is priced at USD3,050 (*£1,952) for single occupancy and USD2,750 (*£1,760) per person for double occupancy. Prices quoted are inclusive of tax and service charge, terms and conditions apply and room nights can be extended at an additional cost.
For more information, visit ytlhotels.com.
*Conversion rate correct at the time of publication.