New York bargain Christmas shopping breaks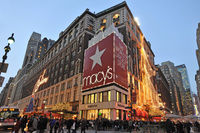 Due to the many silver screen portrayals, the city's famous department stores, shopping avenues and iconic festivities, the lead up to Christmas is historically the most expensive time to visit New York. However, The Hotel @ Times Square, situated in the heart of Midtown Manhattan, is lifting the lid on a great travel secret for those on the hunt for a bargain city break this winter.
If you can hold off those Christmas shopping spree urges until mid-December, savvy travellers will be rewarded with heavily reduced rates! With double room rates starting from just $149.99 per night (which equates tounder £48 per person) between 16 and 25 December, guests at the chic yet cheap The Hotel @ Times Square will save a massive $170 per room per night, when compared to rates available just one week earlier on 9 December*. All prices exclude flights and accommodation taxes.
Located within strolling distance of Fifth Avenue, Rockefeller Center, Times Square and Central Park, The Hotel @ Times Square is the perfect base for a budget city break. What's more, guests receive free continental breakfast, free wi-fi and free stays for children aged 12 and under. To book, visit thehotelattimessquare.co.uk.
*Double room rates start from $319.99 plus taxes on 9 December.