Mercedes-Benz SL honoured by DVLA personalised registrations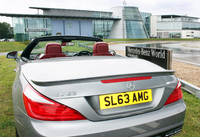 DVLA Personalised Registrations has taken the unprecedented step of releasing a registration for auction – a year before it can actually be used.

In celebration of its September sale at Mercedes-Benz World, the Agency is auctioning SL63 AMG – of the 63-series which identify vehicles first registered from September 1, 2013.

SL63 AMG, which comes with a £2,000 reserve, is among 1,500 personalised registrations in the three-day auction at the prestigious Surrey venue commencing on Thursday, September 6.

While there are numerous registrations geared towards Mercedes-Benz owners, key name-related registrations include BE11 NDA, CA12 TER, JE12 OME and PA12 KES, a concert promoter might be tempted by SE11 OUT while James Bond fans might opt for CO07 SPY.

The DVLA is ensuring those attending the event will enjoy a memorable experience, for registered bidders will get free admission to the Mercedes museum as well as the opportunity to experience free "hot lap" rides around the onsite circuit.

Damian Lawson, DVLA Personalised Registrations' Marketing Manager, said: "Mercedes-Benz World will be a perfect backdrop for our next sale.

"Auctioning a registration so far in advance of its on the road date has never been done before, but as it is the sixtieth anniversary year of the SL we wanted to celebrate by offering the registration for sale now rather than have it sitting in our vault."

In addition to those registrations already mentioned, DVLA's forthcoming auction will consist of a total of 1,500 registrations, all chosen to offer a selection to suit all tastes, styles and budgets including; 600 A (reserve - £3,000), BA11 OON (£1,000), BO55 AMG (£700), BU11 MER (£900), BU11 OCK (£1,000), CHU 7E (£400), (£400), CUR 11E (£400), DEE 516N (£300), E50 AMG (£500), FA12 REL (£1,000), GA11 ERY (£1,000), GA12 RYS (£900), GYM 80X (£400), HE12 ESH (£900), HU12 LEY (£1,000), H15 LUV (£350), H15 MRS (£400), JAN 170R (£400), L551 DHU (£400), MA11 ETT (£900), ME12 LOT (£900), MEL 848E (£450), MY12 SLK (£600), OFF 11A (£400), PH11 LLS (£1,500), SH11 RLY (£1,000), SL63 AMG (£2,000), ST12 EET (£900), TA12 REK (£900), TJ51 NGH (£900), TR11 CKS (£1,000), VA12 NEY (£900), WA12 REN (£1,000), YOU 54Y (£400).