Celebrities love Milly J Shoes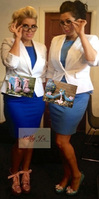 Avant-garde shoe designer is in demand! Celebrities are going wild for Milly J Shoes - the avant-garde shoe designer of 'art to wear' shoes and original shoe sculptures.

Milly Jupp, from Hertfordshire; the designer behind the amazing creations, has already adorned the feet of model and body building champion Jodie Marsh (as seen on ITV This Morning), X Factor finalist 2shoes, American actress Josie Stevens and model/presenter Nancy Sorrell, who said of the Shoe Artist - "I love my crazy Milly J Shoes, You're very talented!".

Milly J shoes are in such high demand she has a waiting list of the great and the good including model Nicola McLean, comedian Vic Reeves, actress and TV presenter Lizzie Cundy and TV presenter Bret 'Hollywood' Freeman. Milly J, an actress/singer, turned artist and shoe designer is overwhelmed with how quickly the business has grown and the increase in demand for her shoes.

"It really has gone crazy in the Milly J Shoes studio. Since Josie Marsh was featured on ITV This Morning wearing her Mad Hatter Teapot shoes (above), I have been inundated with orders from across the globe. I am really excited that my designs are loved by so many people!"

Milly J's Shoes are exceptional special edition shoe sculptures and 'art to wear' shoes specifically created for every client. Each pair of shoes has been inspired by themes such as Swan Lake, Mad Hatter's Tea Party, Guardian Angel, Wizard of Oz, Vampire Diaries, Secret Garden, The Rabbit, Rubix Cube, Beatix Potter and even Twitter!
Milly J's Shoes' designs can be made as an 'art to wear' pair of shoes for personal use, on a fashion shoot, on the stage, in the movies, for a wedding or a special event. They can also be created into sculptural shoes for display as art installations, at events, venues, businesses, and can be adapted into items like flower pot arrangements or even bouquets for a bride.
There is no end to the design potential of Milly J's Shoes, a client can either choose from one of the 40 already established designs or commission a brand new concept.
All shoe structures are long wearing, comfortable and well fitting if an 'art to wear' pair and robust if a sculpture. Prices vary from £110 to £300 to buy or specific pairs can be loaned and are available from millyjshoes.co.uk.