Think before you gap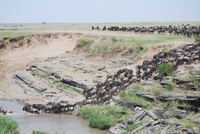 A basic gap year doesn't come cheap, and whatever the figure it will often be minus project fees, an added cost on the growing number of voluntour schemes. According to Acacia Africa, the latter is now taking precedence, with many gappers leaning towards a more meaningful 12-month travelling stint.

Leanne Haigh, Project & Development Manager at Acacia Africa, comments, "Whether taking time out before studying, enjoying a sabbatical or following in the footsteps of your grandkids, it's important to make the right decision both ethically and financially. Practical insight gained from shorter stays has helped to drive the popularity of voluntour holidays as they are a great half way house, from choosing the desired organisation to understanding the expectations of and role of a volunteer."

Humour aside, the popular "Gap Ya" character found "chundering" his way through various continents, probably isn't the best judge of the available options, but Acacia Africa have handpicked several experiences ranging from one to 26-days.

For those who are unsure of where to start, overland expeditions with one-day voluntour stints and half day community tours are an ideal starting point. Adventurers on the 11-day Cape Desert Safari will have the opportunity to visit the Langa Township, the largest settlement in Cape Town. While there are no specific volunteer activities it's a chance to delve deeper into community tourism and the trip often gives people an insight into the direction they would like to take on a longer voluntour (From £656pp). On the 21-day East African Explorer, travellers will be making an informal visit to a local school in Malawi. Its proximity to the campsite means many overlanders can opt to stay for a longer period, sometimes helping with or taking actual classes (From £1,528pp).

More involved teaching programmes are available on the 21-day Zanzibar, Community & Wildlife voluntour - the holiday including options to work with children and adults, illiteracy affecting over 40% of the population (From £1,905pp).

Budding conservationists also have a range of tour types available. The 8-day Rediscover Zimbabwe small group safari features a visit to Hwange's famed Wild Dog Project, where efforts have been made to rehabilitate and release injured and orphaned wild-dogs. At the end of the itinerary adventurers can go walking with lions, a pursuit offered at the high profile Antelope Project in Gweru (From £662pp). A longer voluntour, the 26-day Masai Mara Conservation & Wildlife Safari operates year round, the hands on trip proving to be particularly popular between July and October, when the annual migration is underway. Lion research and monitoring, empowering local communities and assisting in the education of safari guides are just some of the activities, adventurers taking their lead from the Masai tribe (From £2,603pp).

Top five reasons to opt for a shorter voluntour, community or conservation experience…

You'll have a better handle on your country of choice when it comes to the language, customs and currency, and should you decide to, you will be returning to a familiar environment

A tour operator that has made a commitment to a project will provide added reassurance in terms of the organisation's ethics

No doubt you will be meeting other volunteers who might be able impart valuable information on innovative ways to help fund ethical gap years

You could well decide to take a new direction and learn that you have the perfect skill set for a particular volunteer role

There are still a few unknowns when it comes to the economy and this way your hard earned cash will be used more wisely once you opt for your gap year

For more information, visit acacia-africa.com.