Switch up standard student spends with epic Kiwi Experience adventures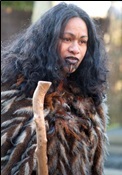 Kiwi Experience shines the spotlight on once-in-a-lifetime New Zealand adventures which ring in at the same price of some standard student entertainment spends to show students what they could experience for the same cost!
Swap a weekly student night out for an underground Waitomo Glowworm Caves boat trip or switch a potentially muddy festival weekend for an unforgettable Kiwi Experience journey around the whole of the South Island!
While fancy dress nights out in student towns and UK seaside breaks with university friends are undeniably fun, a trip to New Zealand with Kiwi Experience, known for its adrenalin activities, beautiful beaches and epic landscapes, offers young travellers an experience of a lifetime that's well-worth the money.
Fresher's Week fancy dress costume Vs Zorbing in Rotorua for around £18

For the same price as a 'cheeky smurf' or 'oompa loompa' fancy dress outfit Kiwi Experience passengers can spend an afternoon laughing non-stop as they roll down ZORB® Rotorua's hilly course in a sphere filled with water and one or two of their favourite travel buddies! Zorbing, which is now popular with thrill-seekers all over the world, is a kiwi invention and Rotorua is where this wacky activity was first introduced. A ZORB® spin experience costs from NZ$39 per adult (approx £18).
A student night out Vs Waitomo Glowworm Caves for around £23

A visit to the Waitomo Glowworm Caves to marvel at Mother Nature's light display in an underground labyrinth, is a memory that's going to stick around in – whereas those student nights out tend to all blend into one after a while! The glow worm, Arachnocampa luminosa, is unique to New Zealand and the now world-famous underground boat ride through the caves where thousands of these tiny Glowworms radiate their unmistakable luminescent light provides a serene ambience with informative commentary on the caves' historical and geological significance. The tour costs from NZ$49 per adult (approx £23).
A festival day ticket Vs Bay of Islands for around £57

Ok, a day out at Wireless or Lovebox is pretty fun (until the rain starts up!) but a long weekend spent in the Bay of Islands, one of the most beautiful and tranquil destinations in the world, located in the north-eastern tip of the North Island is basically unbeatable! Kiwi Experience's Bay of Islands bus pass costs NZ $121 (approx £57) and takes passengers from Auckland to Paihia in the 'winterless north' and the Bay of Islands, with its 144 islands and amazing beaches. A wide selection of water and land-based adventure activities are available from fishing, sailing and dolphin swimming to nature walking, checking out the town's charming cafes and bookshops or simply relaxing on one of the many golden-sand beaches.
A Graduation Ball outfit Vs a Tamaki Maori Village overnight adventure for around £92

Splashing out on a graduation ball or college prom outfit is a given – who wouldn't want to look good in those all-important year-book photos – but for the same price as a posh frock or suit graduates could be immersed in Maori culture during an overnight stay at Tamaki Maori Village in Rotorua. This overnight excursion costs NZ$180 (approx £92) and offers a taste of the extra special Tamaki hospitality with a traditional Maori welcoming ceremony, dinner and concert as well as accommodation. Tamaki Maori Village includes an open air cinema, spa pools, bar, fire pit (for sharing stories and marshmallows), and a purpose built area for taking part in cultural activities.

A weekend trip to Brighton Vs a Nevis Bungy jump for around £130

Who doesn't love a trip to the seaside – but what's going to stick in your memory when you look back, a soggy beachfront fish and chips or a jaw-droopingly scary Nevis bungyjump?! Queenstown has a number of heart-stopping bungy jumps and swings to choose from but the most extreme has to be the highest bungy in Australasia – the Nevis Bungy – which towers an epic 134 metres above the Nevis River. Skippered by the experienced crew from AJ Hackett Bungy, the Nevis Bungy is not for the faint hearted, and costs from NZ$275 (approx £130).
Special Offer New Zealand Passes:
There are 33 different Kiwi Experience travel passes to choose from and the 'Current Specials' section of the Kiwi Experience website regularly offers around 40% to 60% discounts leaving more spending money for fun activities on the ground!
The following offers are valid for bookings made by 30th May 2015. However, passes are valid for 12 months, so arrival in New Zealand can take place until May 2016 allowing students to buy discounted tickets now and then have time to save up for flights and spending money before travelling later. Passes are also valid for a year from first activation in New Zealand.
New Zealand South Island vs. a Bestival ticket, ferry and weekend provisions: NZ$887 (approx £380)

The Southern Round Up tour heads up the coastline from Christchurch visiting Kaikoura, Blenheim, Picton, Kaiteriteri, the Abel Tasman National Park and its famous golden beaches. For those short on time this is a great way to see the highlights of the South Island, though passengers can always hop-off and soak up more of the destinations on the pass if they have time to spare.
North & South Island NZ highlights vs a European city break: NZ$1,273 (approx £545)

Want to see the sights without spending months in New Zealand? Kiwi Experience's core Auckland to Christchurch pass, the Sheepdog winds its way down the North Island, cruises down the West Coast of the South Island then cuts back up to Christchurch. Being a one-way pass it can be done in just 16 days in the summer which is great for those who want to see a lot but don't have a lot of time. Don't let that stop you though – like all of Kiwi Experience's New Zealand bus passes passengers have 12 months to meander along the route before completing their trip.
For more information on Kiwi Experience visit: kiwiexperience.com

Become a fan on facebook and follow Kiwi Experience on twitter and Instagram