What are the best months to go to New Zealand?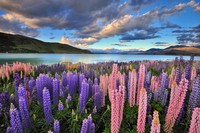 New Zealand is a country for all seasons. From its snowy mountains to its gorgeous beaches, the dramatic landscape that provided the backdrop for the Lord of the Rings movies can be enjoyed all year round.
The best month to come to New Zealand depends on what you want to see and experience.
Whichever time of year you choose, make sure that you have authorization to enter the country. If you are a national of an eligible country, you can avoid going to an embassy to apply for a visa by obtaining an NZeTA (New Zealand Electronic Travel Authorization) online.
What Is the Cheapest Month to Fly to New Zealand?
If you would rather avoid the crowds and/or save money, it may be best to avoid coming to New Zealand during the summer and winter.
These seasons are peak times for holidays. The beaches tend to be fuller during summer, while the mountains are busy during winter and everything is a little more expensive during both seasons.
The best deals on flights can generally be found in spring and fall, particularly in the following months:
- March
- April
- May
- October
- November
New Zealand Seasons
New Zealand has 4 distinct seasons and each has its own perks for international travelers visiting at that time.
Being in the southern hemisphere, summer lasts from December to February, while winter falls between June and August.
Summer is paradise for outdoor activities, so if you are into hiking or cycling or want to spend some time catching some rays at the beach, December, January, and February are the ideal months to visit.
Fall brings the changing colors of the leaves and the hiking trails are a lot quieter than in the summer. March, April, and May are still fairly mild on the North Island, but a little chillier on the South Island. Either way, bring a jacket!
Winter is ideal for skiers and lovers of winter sports. New Zealand is home to various ski resorts, such as Queenstown and Cardona on the South Island and Whakapapa on the North Island.
Spring tends to be quiet in terms of tourists, but the New Zealand countryside is perhaps at its most beautiful, with fruit trees blooming and newborn lambs bounding around the fields.
Summer in New Zealand
In December, the warm weather arrives and the days are at their longest. It is a great time to explore New Zealand and go kayaking, hiking, or hit the beach. December is also the optimum time to see penguins in the south of the country.
If you are from the northern hemisphere, it might be a strange experience to spend Christmas in the middle of summer, with festivities and decorations under the warm sun. However, that certainly doesn't take anything away from the celebrations and atmosphere of good feeling.
January is hot throughout most of the country. Many of the biggest events in the calendar take place here, including festivals, concerts, races, and more. The downside is that accommodation prices are at their highest. Some local businesses and restaurants might be closed too, since New Zealanders often choose January to take their own holidays.
February is also hot and is a great time to go to the beach. There are many outdoor sporting events and most businesses will now be open. Don't forget to bring sunscreen.
Fall in New Zealand
Fall is a good season to visit NZ if you want to avoid crowds of tourists and enjoy the best of New Zealand's wine.
March is still warm and it is a great time to be outdoors. The crowds are much smaller now, making it the ideal time to visit some of the more popular tourist destinations.
April is the best month to see the autumn foliage in New Zealand. As the landscape turns to beautiful shades of gold and orange, you will want to put on a jacket — temperatures begin to fall and it can get a little chilly, particularly in the south.
If you are in New Zealand in May, you are going to need a coat. However, the country still experiences some bright and beautiful days and with low prices and a lull in tourism, you will feel like NZ is yours to explore. It is also the country's Music Month, so expect live concerts and local artists on the radio to give you a slice of Kiwi culture.
Winter in New Zealand
June marks the start of winter and is usually when the snow begins to fall and the ski resorts open. Queenstown Winter Festival also takes place in June, making it well worth a visit to the South Island.
For those interested in M?ori culture, Matariki (M?ori New Year) takes place in June.
July and August are the optimum time for winter sports, so if you are looking to go skiing or snowboarding in New Zealand, this is probably the time of year for you.
Outside of the mountains, much of the country is in the down season for tourism, so if you don't mind the colder weather, you might find some good deals and fewer crowds.
Spring in New Zealand
The snows in the mountains usually linger throughout September and ski resorts remain open. It is usually quieter than in previous months, so September may appeal to you if you are a skier or snowboarder. In the lowlands, however, spring is blooming and the lambing season begins.
October really begins to feel like spring with warmer days and longer daylight hours. Flowers and trees begin to bloom and you will be able to enjoy the New Zealand countryside at its most colorful.
November sees long, beautiful days and lambs in the fields in rural areas. Peak tourist season still hasn't started, so this may be the perfect time to enjoy decent weather with a bit of tranquility.
Whichever time of year you choose, you are certain to have an amazing time experiencing New Zealand.