Sleep under the stars in New Zealand with new glamping options from Kiwi Experience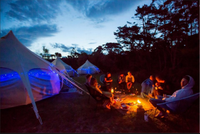 For 2016, New Zealand adventure bus company Kiwi Experience has teamed up with camping experts, Lotus Belle, to offer travellers a new style of accommodation with glamping options now available at popular locations across the country. Glamping, or glamourous camping, has taken off in both the UK and New Zealand, appealing to those with an adventurous side who want to sleep in the great outdoors without giving up the creature comforts of home.
As the UK's second most popular gap year destination in 2015, New Zealand is gearing up for a busy summer while Europe patiently waits for winter. Kiwi Experience is kicking off the upcoming summer season with the introduction of glamping to accommodate and appeal to an even wider audience. As glamping is particularly popular with young travellers, gap year favourite Kiwi Experience sees the new partnership with Lotus Belle as a step in the right direction to diversify its product for the year ahead. Traditional accommodation options for Kiwi Experience travellers include hostels and homestead stays, with glamping a slightly higher priced alternative at NZD$35 (approx. £16) per person per night. Kiwi Experience offer five metre Lotus Belle deluxe tents which sleep five people. To arrange glamping accommodation, passengers can book through their Kiwi Experience driver guides while on the road travelling around New Zealand.
For those keen to head to New Zealand with Kiwi Experience this winter, here are a selection of current specials on offer:
62% off the Sheepdog pass – minimum 17 days
The Sheepdog is a one way pass beginning in Auckland and winding its way down the North Island, down the west coast of the South Island then back up to Christchurch. This pass is great for those who want to see a lot but don't have a lot of time.
NZ$499 (approx. £225) – a saving of 62%. Book by 7th January 2016 at kiwiexperience.com
61% off the Rangi Pass – minimum 23 days
The Rangi pass combines the Funky Chicken pass with the Bay of Islands pass and allows travellers to start wherever they want and finish where they started, taking visitors up as far north as the Bay of Islands near Auckland and as south as Queenstown.
NZ$599 (approx. £271) – a saving of 61%. Book by 7th January 2016 at kiwiexperience.com
51% off the Whole Kit and Caboodle pass – minimum 30 days
The Whole Kit and Caboodle is a pass for those who want to see it all. It will take visitors right up to Cape Reinga and all the way down to Invercargill, including stops at all of the great adventure tourism activities in between and a free Milford Sound cruise. Like the other NZ 'start anywhere' passes it also includes unlimited travel.
NZ$999 (approx. £452) – a saving of 51%. Book by 7th January 2016 at kiwiexperience.com
For more information on Kiwi Experience visit: kiwiexperience.com